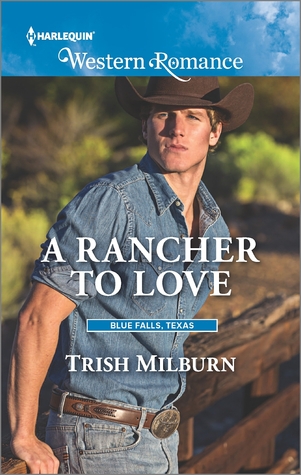 In A Rancher to Love (Blue Falls, Texas #8) by Trish Milburn, after being attacked in the one place she's always felt safe, Leah Murphy decides that she needs to get away. Blue Falls seems like the perfect place, especially with her aunt and uncle as well as her cousin living in the small town. But when her cousin secures her a place to live, Leah doesn't know how she's going to handle living so close to a man she barely knows. However, one thing she does know is that her cousin trusts him, which is good enough for Leah to want to give Tyler Lowe a chance.
"You'll make someone a wonderful wife someday. Don't you think so, Tyler?"
Elissa Kayne, Verona's niece, swooped in to the awkward scene, hooking her arm around her aunt's and guiding her on down the aisle. "Sorry, guys," she called back over her shoulder. "She's normally better behaved."
Tyler couldn't help it. He snorted out a laugh.
"I see Verona's upped her game," Leah said.
"So you're aware of her reputation."
"Oh yeah. Conner is perfecting the art of avoiding her."
"Smart man."
Although I haven't read any of the books in this series so far, this story can easily be read as a stand-alone. It encompasses the mysterious strangers trope, a heroine determined to re-discover the woman she was before the attack that has her running scared, and a hero determined to do his best to take care of his niece. Right from the beginning, this story grabbed my attention, because of the heroine and the fact that she's uncomfortable around men she doesn't know. It made me feel sorry for her, and yet, I was also intrigued to read how she'd overcome her fear and achieve a happy ever after with Tyler.
As for the dialogue, I liked the moments between Leah and Tyler's niece, Maddie. They're good for each other, as Leah helps Maddie open up and talk about her mother and helps the young girl to realize that no-one will care more about her than Tyler, especially when he does such nice things for her. Things that her mother would never have done for her because the woman was never able to do right for her own life let alone her daughter's, which made me feel sorry for Maddie. However, the dialogue is also intense due to the main characters back stories, the heroine's struggle to re-discover her love for her career of making jewellery, and the hero's struggle to do right by his niece because he believes he failed his sister and he doesn't want to do the same with Maddie.
I really liked both the main characters as well as the secondary ones, especially Verona. She was a real hoot with her matchmaking, and it was no wonder Leah's cousin did his best to avoid her. The heroine really grows throughout this story. At the beginning, she's so skittish and uncertain of men she doesn't know. Yet, the more time she spends with Maddie and Tyler, she begins to realize that the attack that sent her running could have turned out a lot worse for her, and that she shouldn't allow it to keep holding her back from going after what she wants. Indeed, she's really brave and of course, talking about what happened to her helps.
While Tyler, he's kind and caring. He would do anything for his niece to make certain she's well looked after and knows how much he loves her. Certainly, he proves his love through his emotions and reactions as well as everything he does to ensure she feels like he wants her in his life; to ensure that Maddie realizes that he's different to her mom and would never abandon her. He's also very protective and would do anything for those he loves, even if it means seeing that his own sister is denied her rights to her child by any means necessary.
Overall, this was a really good book where the sex scenes were hot and illustrated the strong chemistry this couple had from the moment they met. Leah isn't ready for a relationship, and yet, every interaction she has with Tyler, makes her see that she deserves to be happy. That she can find that happiness with an honorable, kind man like the hero. Ms. Milburn wrapped this story up nicely with the conversation Leah has with her best friend, which helps her find the strength to tell Tyler how deep her feelings for him are. I would recommend A Rancher to Love by Trish Milburn, especially if you enjoy small town romances.
Book Info:

 July 5th, 2016 | HQN Books | Blue Falls, Texas #8
SAFE AT HOME
Leah Murphy just wants to feel safe again after a violent break-in. Moving to Blue Falls, Texas, is the first step. Renting the bunkhouse from rancher Tyler Lowe is the second. But Leah is uneasy around the handsome cowboy, despite his kindness.
Tyler knows all too well how difficult it is to rebuild trust. He's trying to help his young niece heal from her own dark memories. When he sees how Maddie responds to Leah, he can't help feeling grateful—and attracted to the beautiful woman. He knows he has to move slowly to win Leah's heart, but he also knows she's worth the wait.