In The Marquess and the Maiden (Lords of Vice #2) by Robyn DeHart, years ago Oliver Weeks, the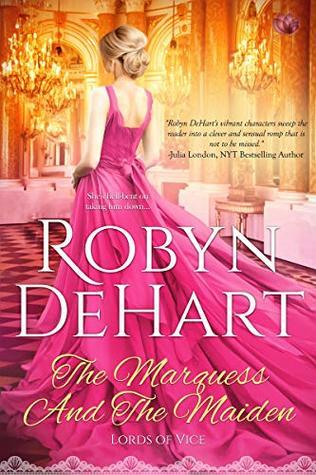 Marquess of Davenport, rejected Harriet Wheatley. However, now that he's turned things around and made more than enough money to save the family estate, he's finally ready to settle down. Yet, the only woman he wants is Harriet. Too bad she wants nothing to do with him. Not unless he changes his indulgent ways. Will Oliver find a way to win Harriet over?
=It would appear that our mothers are doing a bit of matchmaking."
"Indeed." He grabbed a flute of champagne off a footman's tray and drained the glass. Then he turned and faces the attractive, yet annoyingly cheerful woman before him. "It won't work."
"Sorry? What won't?"
How was it possible for her eyes to be that round and that blue? "This." He motioned at the space between them. "I am not interested."
The way this story started with the prologue opened this book marvellously and drew me in immediately because of what happens between Oliver and Harriet. It then had me reading quickly, determined to discover how Oliver was going to win the heroine over now that he's looking for a wife and she's the only woman he wants. How long will it take Oliver to win Harriet over? However, it was from the moment the hero and heroine meet for the first time that made this story interesting and a total page turner because Oliver really hurts Harriet and it's understandable why she's decided to remain single after the hero's rejection in the past.
As for the dialogue, it was intense due to the main characters back stories, their past history that has left Harriet wary of the hero's sincerity in his pursuit of her, and the obstacles these two face to be together including the heroine's need to get to the truth of who is causing trouble for her and the secret group she works with to help those that need help. Will Harriet find the information she's looking for when it comes to the person causing trouble? Moreover, both the main characters are fantastic and I loved their growing relationship, as Oliver needs to use everything he has to win the heroine over. Will he resort to trickery to get what he wants?
"It unsettles me when you look at me like that," she told him when she reached his side.
"In what way am I looking at you?"
"As if I am the last piece of cake on the tray."
He chuckled. He leaned down close to her ear. "That's because I desperately want to put my mouth on you."
With the heroine, she had me smiling and laughing because she's very independent, stubborn and determined to resist the hero because she believes he can't possibly be interested in her after what happened years ago. His rejection stung and she's not ready to let him destroy her again. I also liked the heroine's resilience and courageousness when it comes to the secret group she's a part of. How could someone want to expose their identities when they do so much good work? While the hero, he charmed me with his back story, his confident attitude, his determination to win over the heroine and I liked how much of a challenge this couple provided each other, as the heroine is determined to resist him where as the hero is determined to get his way.
"What if you wake up one morning and realize you could have had someone else, a different man, a whole man?"
"I'd pick you, again and again. I don't need you any different than how you are right now. I merely need you to complete me."
Overall, Ms. DeHart has delivered a really good read in this book where the chemistry between this couple is strong, especially since the hero has his work cut out for him when it comes to winning the heroine's heart; the romance was well worth the wait because the hero makes Harriet feel so special; and the ending had me loving the heroine's words and how she shows the hero that it's all right to be vulnerable and that there's no better man for her than him. I would recommend The Marquess and the Maiden by Robyn DeHart, if you enjoy Historical Romance, the enemy to lovers trope, second chance romances or books by authors Stacy Reid, Elizabeth Keysian, Heather McCollum and Maddison Michaels.
Book Info:

Publication: September 10th, 2018 | Entangled Publishing | Lords of Vice #2
Harriet Wheatley is the mastermind behind the Ladies of Virtue's quest to rehabilitate the gentlemen of the ton. So when it comes to selecting her own target, she knows who to choose: Oliver Weeks, Marquess of Davenport—the most extravagant wastrel in all of London.
Known for his opulent lifestyle, Oliver isn't surprised by Harriet's confrontation. It's obvious Harriet longs for any way to take him down a notch. She says she'll help him find a bride, but he knows it's only because it gives her the excuse to chastise his indulgent ways.
Oliver has good reason for his flagrant overspending, but Harriet will hear nothing of it. So he has no choice but to teach the lady a lesson, even if it means risking his heart to the hard-headed and fiery woman.