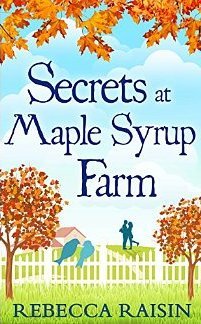 In Secrets at Maple Syrup Farm by Rebecca Raisin, a story in this author's Once in a Lifetime series, Lucy is forced to make one of the hardest decisions of her life, when her mother asks her to do something that could ultimately change her life. Choosing to make the promise, Lucy soon discovers the small town of Ashford has lots to offer. Unfortunately, staying there won't help her accomplish what her mother has asked of her.
Inheriting a maple farm was the best thing to happen for Clay. It grants him the solitary life he chooses to lead, so people can't betray him, as they have in the past. But when Lucy comes knocking, looking for a job, it seems he can't turn her away. She's very persistent and unwilling to take no for an answer.
From the start to the very end, everything about this book was charming — the plot, the dialogue, the characters – both the main and secondary characters, as well as the growing relationship between Clay and Lucy. The plot was well-written, entertaining, and I loved the idea that made this story come to life. As Lucy's decision was one of the hardest she's ever had to make.
With the dialogue, it tugged at my emotional heartstrings. Both Clay and Lucy have had tough times in their lives, especially Clay. With his back story, it was no wonder he preferred to live a solitary life, and I could understand why Clay was so hesitant to let Lucy in. Yet, it was rewarding when he finally did. Because he needed her, every bit as much as she needed him.
I absolutely loved both characters. Lucy's persistence was very endearing, as it helped Clay come out of his shell. Perhaps enough for him to see that he could trust people again. That not everyone was like those that betrayed him in the past. The sex scenes captured this couple's chemistry perfectly, and at the right moments throughout this story. I loved the tension this author created between this pair. It was strong from the moment they met, until that moment where they finally cracked, and gave into their strong chemistry.
This book was truly a delight to read, and has me looking forward to reading more from this author. In fact, I really want to read the other books of this series, as the secondary characters charmed me almost as much as Lucy and Clay.
Book Info:

 July 17th, 2015 | Carina UK | Once in a Lifetime
Clay's inheritance of Maple Syrup Farm came at the perfect time. Leaving city life behind he headed for maple-tree surrounded Ashford, Connecticut. Getting the farm in working order again might be back breaking work – but it seems to be the only way for Clay to finally forget about the girl who once broke his heart…
Lucy's had enough of rules and the stress of planning her life down to the very last detail. Looking for an adventure she stumbles upon Maple Syrup Farm and its gorgeously gruff owner. This could be the perfect place to hide out…!
But the tranquillity and warmth of Maple Tree Farm is enough to heal even the most battered of hearts. There are very few problems in life that can't be cheered up by maple syrup!
The new standalone novel from bestselling author of the Gingerbread Cafe trilogy and The Bookshop on the Corner, Rebecca Raisin.