The Bookworm's Guide to Flirting by Emma Hart: Comfy sweat pants, a cozy couch and a steamy romance novel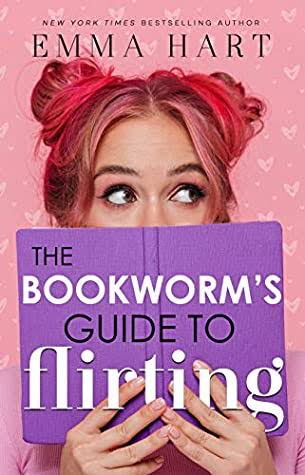 this is all Saylor Green wants or needs, after all who needs the headache that comes with a real boyfriend when her book-boyfriends never let her down. So when her two best friends all but force her into taking part in their Valentine's day blind date party Saylor cant really say no. However the very last person she expected to be set up with was her very own new hot roommate, Dylan.
"His stupid British accent was like sugar— delicious, addictive, and liable to leave people high. It's me. I'm people."
Dylan would be anyone's dream blind date including Saylor's, after all he is sweet, kind, good looking, all the qualities she could ever ask for in a boyfriend the only problem being that he is her roommate. Oh and did I mention that Saylor all but salivates each morning seeing him strut around their apartment without his shirt. Things take an interesting turn when Dylan offers to help Saylor with her flirting, with flirty words flying and steamy glances shared, will these two finally figure out what has been right in front of them?
"Look at these things . If you flexed them like Popeye you'd take my eye out. You can lift those boxes way easier than I can. Besides, if I hurt my arms, I can't hold the book I'm reading. It's why I don't lift weights. It's just not worth the risk."
Emma Hart is the queen of cute flirty reads and The Bookworm's Guide series has been just that. This is one of those books that you just eat up in one sitting. I absolutely love the constant humor and banter between Saylor and Dylan, as well as getting to see the rest of the gang, especially the grandparents and the ducks – how cute were the ducks!!
"She called me this morning asking if I knew where she could buy some socks for the ducks."
"Socks? For ducks?"
"Yes. Apparently, your grandma promised to knit some, but knitted penis warmers instead."
Saylor was an absolute treat, I loved her say it as she sees it, no filter snarky attitude. But the thing I love the most about her was her love for books and the way she just lives and breathes them. It was really cute getting to watch Dylan and Saylor's slow burn romance unfold and watching them try to learn and figure each other out.
"I can't take anymore of that accent and those stupid freakin' gray sweatpants that are basically lingerie , thank you very much."
Dylan was perfection! This hot British tea loving hottie just stole my heart! Hart did a fantastic job at painting the Dylan picture in all his grey sweatpants, tea drinking, flirty glory. However the real thing I loved about Dylan was that he just knew Saylor, sometimes even better than she knew herself.
"Sweet talk all you like . I'm still not hiking with you."
"Nah. A couple more of those orgasms, and you'll be running marathons with me."
"A couple?"
"Fine, a lot."
The Bookworm's Guide To Flirting was an absolute gem, I loved every single second of this friends to lovers romcom. Hart combines all of the best qualities needed in a stand out read also adding a healthy helping of crazy oldies with even crazier ducks. The Bookworm's Guide series is definitely one I would recommend reading, you will be laughing from start to end!

Book Info:

Publication: February 23rd 2021 | Emma Hart | The Bookworm's Guide #3
What I thought I'd get on Valentine's Day: a card.
What I got on Valentine's Day: a blind date with my brand new roommate.
Let it be known that I, Saylor Green, am wholeheartedly against blind dating. I think it's superficial, unnecessary, and designed wholly to force people into relationships they aren't ready for.
It's me. I'm people.
So when Dylan Parker takes the seat across from me, I'm ready to dismiss him at one glance.
The problem? He's hot and funny and sweet and the exact kind of guy I read about in the romance novels I sell like hotcakes in my bookstore.
He's also my new roommate.
Who likes to walk around in his sweatpants and peer over my shoulder and comment on all my online dating escapades.
When he offers to help me flirt my way to dating success, I'm all for it.
But what am I supposed to do when the only person I want to flirt with is… Dylan?