In The Boss (Fire's Edge #1) by Abigail Owen, Delaney Hamilton has been running for a long time, but now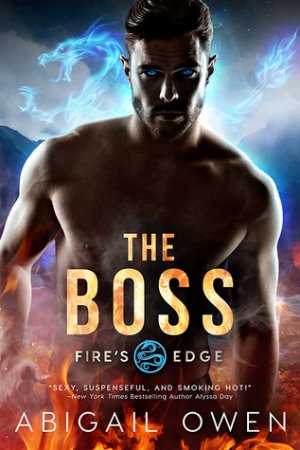 she's finally found a place she'd love to settle down at. Unfortunately, she might not have a choice but to pack her bags again and leave when her stalker tracks her down. However, when the mysterious Finn Conleth arrives at the scene of yet another fire that was started while she was present, she finds herself trusting him to figure things out. But when Delaney learns how much trouble she's in, will Finn be able to keep Delaney safe or will their chance at happy ever after not happen because someone wants Delaney for themselves?
You're sorry a lot, you know that?"
Another huffed laugh, this one more uncomfortable sounding as he searched her face, trying to get a read on her. "You have no idea. But I shouldn't have done that. It wasn't…professional."
"Professional is overrated," she grumbled under her breath.
"What?" he asked. Only his eyes crinkled at the corners, as though he was holdng back a smile.
"You heard me."= She stood, and almost grinned when he stiffened at her nearness, though he didn't Delstep back. "Let me get dressed, then I want you to tell me what you know."
I'm a huge fan of this author's writing and I've got to say that Ms. Owen is just as superb in writing a paranormal as she is at writing contemporary. Really, this first book of her Fire's Edge series was thrilling and fast-paced with sexy dragon shifters that are just as hot as a dragon's fire; compelling dialogue; tight friendships between the dragon shifters that have me looking forward to more of this series, and a wonderful plot that took me on quite the adventure, as Finn does his best to keep Delaney safe while fighting the intense chemistry between them because of things that happened in his past that left him scared to give forever after a chance.
The way this story started with the prologue had me hooked and sets the fast-pace of the story because how could finding the woman Finn believed was his mate turn so tragically wrong? Will Finn ever take such a chance with another woman, especially when it could cost her life? However, it was from the moment the hero and heroine come face-to-face for the first time where this story really gets interesting, as these two find each other quite intriguing and there's certainly plenty of chemistry between them, which is palpable through the author's words.
As for the dialogue, it was entertaining and intense due to the main characters back stories, everything these two go through when it comes to the danger to Delaney's life and the obstacles they face to be together including whether the hero can work past the guilt he feels and whether the heroine will ever be free to be with Finn or will she need to continue running since she's already lost so much? Moreover, both the main characters were fantastic and I was totally charmed by the secondary characters in the dragons Finn leads as enforcers of dragon kind. Will they be able to protect their charges in Delaney and the woman she works for? Will they be able to take down the dragon causing havoc without any casualties?
She wrinkled her nose. "Not gourmet or anything, but I needed to keep busy."
"It'll be a vast improvement over whatever Shaggy and Scooby over there could come up with." He hitched a thumb at the two men sitting at the island.
"Shaggy and Scooby?" Rivin mused. "Is that supposed to be an insult?"
"Ruh-roh Raggy. I think they're onto us." Keighan grinned. "I've always thought of us more like Sam and Dean from Supernatural."
Levi guffawed. "You wish. Those guys are way cooler. You two are more like Ren and Stimpy."
"Fred Flintstone and Barney Rubble," Aidan supplied with a rare grin.
With the heroine, she's been through so much and I couldn't begin to understand how hard it must be for her. Delaney is tormented by her past in losing her loved ones the way she did and I couldn't help but sympathize with her. Is she the one creating the fires or is someone determined to drive her crazy and prove what she never thought possible? Is she a potential mate for a dragon? I also liked how the heroine challenged the hero and didn't let him boss her around, even though he's only asserting his authority to keep her safe. Will Finn tell Delaney the truth of what he thinks is going on? Will Delaney be able to accept anything Finn says? While the hero, he feels such guilt over what happened in the past and isn't about to let history repeat itself, even if there's something about Delaney that he's drawn to. I also liked the hero's confidence in his skills to protect the heroine, and the tight bonds he shares with his fellow dragon shifters, especially the way they joke with each other.
Overall, Ms. Owen has delivered a wonderful paranormal romance in this book where the chemistry between this couple was powerful; the romance was delightful and had me hoping that everything would work out for the best for this pair, especially because of everything they face to be together; and the ending had me worried for the main characters because of the danger they face, but left me totally satisfied with how things work out for Delaney and Finn. Yet, it was the epilogue that wrapped this story up nicely because of the loose ends being wrapped up when it comes to something Finn did and has me looking forward to more instalments of this series because of something very interesting that happens right at the end. I would recommend The Boss by Abigail Owen, if you enjoy paranormal romance, the mysterious strangers trope, the sexy protector trope or books by authors Nicole Flockton, Nina Croft, Sheryl Nantus and Lisa Kessler.
Book Info:

Publication: September 24th, 2018 | Entangled Publishing | Fire's Edge #1
Finn Conleth leads his team of enforcer dragon shifters with an iron fist and a cold heart. Every dragon seeks his destined mate, but the process to turn the woman he once thought was his killed her and devastated him. He will never risk his heart again. His team is his family now. When his body eventually gives out, he'll leave, living his last days alone.
Delaney Hamilton moved across the country to escape the freak fires that plague her. But when another suspicious fire erupts and rapidly escalates around her, her hopes for a new life go up in smoke. She has no choice but to turn to the mysterious men who come to her aid.
Finn knows the fire is dragon-caused, which puts Delaney's problems directly in his jurisdiction. No matter how her wounded grey eyes call to every part of him, he refuses to risk her life in the mating process.
Until another dragon threatens to claim Delaney for his own, and Finn has to sacrifice everything to keep her alive…