Her Alpha Viking by Sheryl Nantus: is a sexy paranormal romance that takes a war weary soldier and up-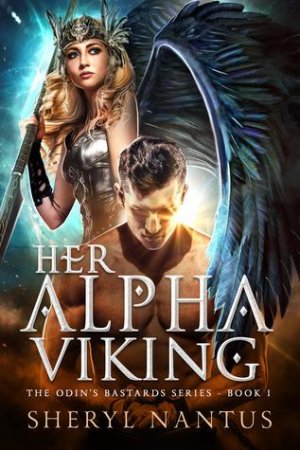 ends his thoughts on life and death when a creature he'd thought to be a myth turns out to be real – and wants him dead.
Erik Harrison is mortally wounded on the battlefield and knows he's dying when he sees a vision – a beautiful woman with wings, a Valkyrie, who releases his friends' souls to make the journey to Valhalla. He's not supposed to be able to see her or talk to her, but he does and in her shock she is unable to release him to his death. Erik recovers and is living a life somewhat in limbo, haunted by the events of that day. He's got a gig as an underground fighter, using his physical strength to power himself from day to day.
Brenna Lund has been sent to earth to claim Erik's soul like she was supposed to that fated day when she failed in her task. She's lost most of her immortal abilities but plans to find him and kill him to release his warrior soul and return them both to Valhalla. But when she catches up to him, he recognizes her. In that moment, Brenna finds herself again drawn to him and unable to fulfill her quest. Because of this, another Valkyrie is sent to finish the job. Now Brenna and Erik are both on the run, hooking up with a traveling group of military veterans. It's only a matter of time before Brenna's Valkyrie sister Kara will find them – and she means to kill them both. Can Erik and Brenna live long enough to change their fates, and get their own happy ending?
What an exciting story! I was enthralled from the very first page with this different take on a wounded warrior romance and how the author skillfully blends the harsh reality of modern warfare with the mythology of the Norse Gods. From the moment Erik and Brenna meet things don't fall out the way they are supposed to, and figuring out why that is and what has drawn them to each other is part of what's revealed by the end of the story. Meanwhile, they have to contend with the sexual attraction that simmers between them as they try to evade a Valkyrie who will stop at nothing to fulfill her task.
I really enjoyed the relationships that Erik and Brenna build with the group of traveling former soldiers who talk about the costs of war in various locations across the country. It's a road trip with meaning and each of the characters has their own back story for where they fought and why they are on this trip. It's easy for Erik and Brenna to blend in with them, though Erik has a reputation on the underground fighting ring and has to keep a lower profile. Brenna's presence and odd stories are explained as a manifestation of PTSD since they know people won't understand who she really is (and even Erik sometimes has difficulty with the truth). There is a lot of action and suspense as the story moves to its climactic finale, and yes, a happy ending for the couple. If you are looking for a sexy, exciting and unique paranormal romance, I highly recommend this one. I am looking forward to reading more in this series!

Book Info:

Publication: Aug 27, 2018 | Entangled Publishing | The Odin's Bastards Series #1
Some loves are bigger than this world…
Former soldier Erik Harrison is a dead man walking. The sole survivor of an ambush, the guilt of losing his friends is crushing. He questions his own sanity, remembering the vision he saw as he was dying –– a battle angel come to collect his friends' souls.
Valkyrie Brenna Lund doesn't know why she failed in her duty to reap Erik's soul on the battlefield. He deserves his place with the other mighty warriors in Valhalla, and if she wants to return home, she has to kill him.
There are consequences for betraying the gods. But the closer Brenna and Erik become, the more they both want to risk everything for a future together. If only an immortal hunter weren't sent to kill them both.