In The Candle Palace (Jamison Valley #6) by Devney Perry , As a nurse in the burn unit in Spokane, Sara Foster has become accustomed to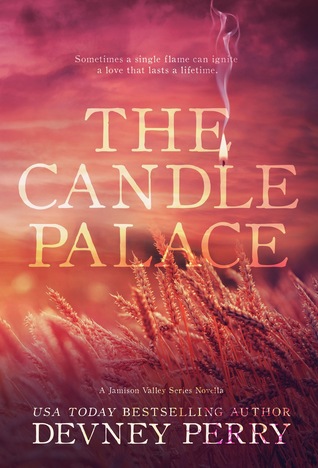 the ebb and flow of patients arriving, healing and then leaving. But there are some people she meets that it's difficult to let go of. A vivacious teenager named Luna, who dubbed the unit The Candle Palace, will certainly be one of them. The toughest goodbye, though, will be when cop Milo Phillips finally gets to go home to Prescott, Montana, leaving Sara with a huge hole in her heart. Because even though it is against the rules, she's gone and fallen for her patient–the man with kind eyes and a long, painful road to recovery ahead of him.
'When he checked out of the hospital in a few weeks, it wouldn't be the end.
Down to my bones, I knew it was only the beginning.'
From the start, Milo and Sara share a strong connection, even in the midst of his horrific pain. He knows it's a game-changer for them both. Now he has two goals: to recover enough to go home and resume his job as a cop, but most importantly, to become a big part of Sara's world. Hopefully he can do so without causing too many ripples in her life or her career. But when one of her coworkers starts making trouble, and her brother's life spirals out of control, Milo will do whatever he can to support Sara to ensure her safety–and their happy future.
"I don't see scars when I look at you. I see a man who makes me feel safe. A man who makes me feel wanted and sexy. You don't have to hide these scars from me. They don't scare me."
Completely swoon-worthy and achingly romantic, The Candle Palace was the final touching installment in the Jamison Valley series. This flashback to the past of a couple who risked everything for their intense love was nothing short of perfection.
'Before Milo, I would never have imagined myself falling for a patient. But here I was, undeniably in love with Milo Phillips.
This love came with consequences.'
I'm pretty well assured when I read anything by Devney Perry that I will be captivated. And The Candle Palace was an epic way to end the super popular Jamison Valley series, bouncing back to twelve years ago when our main characters met. But if you haven't read any of the other books, don't fret. You can read this as a standalone and still get the warm and fuzzies from the sweeping romance and perfect connection Sara and Milo shared together. *dreamy sigh* I do also want to mention that this is being described as a novella, but it is just over two-hundred pages, so it's a long-ish one–which I was very happy about!
Milo and Sara were both likeable characters who seemed destined to be together. There really wasn't much conflict between the two of them. Instead, their issues stemmed from her being his nurse, how that could hurt her career, and what would happen when he was released from the hospital. The trauma that Milo went through while in the burn unit was pretty horrific and might be tough for some readers. It definitely showed his inner strength and his humbleness. As well, we got to see how compassionate Sara was, who impressed me with her gentle touch with her patients and how easily she could relate to them. It was her mother and brother's part of the storyline that kind of broke my heart over the way they treated Sara, which made me like her even more for the kind person she was.
A story of strength, pain, healing, fated love, and new beginnings, The Candle Palace is a must-read book which I think romance fans will cherish for years to come.

Book Info:

Publication: Expected publication: August 20th 2019 | by Devney Perry | Jamison Valley #6
Sometimes a single flame can ignite a love that lasts a lifetime.
Milo Phillips knows the meaning of pain. Suffering through the most intense physical agony of his life, he's confined to a hospital bed to bear it alone. More than once, he wishes he'd died in the explosion that melted and mangled his skin. Darkness consumes him, snuffing all the joy in his life and leaving an empty hole in its place.
But one day, a flicker of light sneaks into his hospital room, driving away some of the hopelessness. For the first time in months, pain isn't all he feels.
The flicker's name is Sara Foster, his new nurse. Milo just hopes that Sara can see past his scars. Because underneath, his heart has begun beating again just for her.