The Christmas Keeper (Happily Ever After #2) by Jenn McKinlay Who could resist the most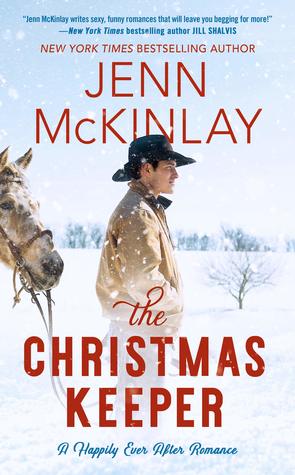 affable, sexy, practically perfect Santa? Not Savannah Wilson. That's for sure!
Savy has her reasons to avoid Joaquin Solis. She knows that her attraction to him would be almost impossible to ignore. And keep her distance she must. She is determined to right the wrong done to her and get back to the job she loved in New York City. She can't let a guy, not Quino, not any guy, dilute her determination to return to the Big Apple. Joaquin Solis is firmly determined to win over Savy despite hr stubborn reluctance. Quino has never felt such a strong attraction to another woman. He just knows that if they spend enough time together he can change Savy's mind. Working together to help save Savy's best friend, Maisy Kelly's romance bookstore is the best chance Quino has to spend time with Savy and convince her to stay in Fairdale, NC. He is playing the long game – friendly attention, planning activities Savy will enjoy (as friends haha) and patience. Lots of patience. I don't know how Savy can resist.
The Christmas Keeper by Jenn McKinlay is the second book in her Happily Ever After series. Once again the action takes place around the romance bookstore in Fairdale named Happily Ever After. There's also plenty of action at Joaquin's horse ranch. Both Savy and Quino are very strong characters. Ms. McKinlay has depicted them as very likeable people; people the reader would like to have as friends. They both have a great sense of humor. To help save the bookstore Quino dressed up as Santa and Savy as an elf. I laughed at all the silly elf names Quino came up with for Savy such as Snickerdoodle Jingle Bells and Mistletoe Merrybottom. Since Quino is such a Christmas fanatic the story is filled with lots of fun Christmas activities. I loved this about the book. A Christmas romance needs to have the Christmas spirit, glow and warm feelings of Christmas. Jenn McKinlay achieved this with a fun, yet heartwarming story.
Book Info:

Publication: October 29th 2019 | Berkley Books | Happily Ever After #2
True love and holiday cheer combine for an unforgettable romance in this second Happily Ever After novel featuring a North Carolina bookstore from the New York Times bestselling author of The Good Ones.
All he wants for Christmas…
The second Joaquin Solis saw Savannah Wilson, he knew she was destined to be his wife. Unfortunately, Savannah's sights are set on a happily-ever-after of another kind: skewering the boss who got her fired. Until then, she won't act on the scorching sexual chemistry that is brewing between them, leaving Joaquin scrambling to find a way to capture her heart.
When the opportunity arises to use his ranch to boost Savannah's publicity career, Joaquin doesn't hesitate to invite her into his world at Shadow Pines and woo her with all of his Christmas loving mojo. It's a gamble since the holidays aren't really Savannah's thing and helping her might also mean losing her as she plans to shake the dust off of their quaint town in North Carolina and head back to New York City the first chance she gets.
But Joaquin believes in the magic of Christmas and he knows with a little help from his friends at the Happily Ever After Bookstore, he can convince the woman of his dreams that he's a keeper…