The Christmas Triplets by Tanya Michaels: It's not often that I pick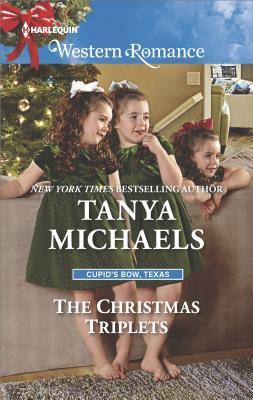 up a romance book that specifically features children in it, but the premise of this one and my enjoyment of this author's writing, plus the Christmas theme were enough to go on that I added this to my reading list. I'm delighted to say that it exceeded my expectations and is a heartwarming, reforming the bachelor/single parent romance.
Megan has her hands full raising 3 pre-school aged triplets – Lily, Daisy and Iris- as a single mom. She'd divorced her husband when she discovered he was cheating on her (and not for the first time) and decided she was better off going it alone than putting up with a loveless marriage, even knowing how challenging it would be. She handles the stress well, running a flower shop in the small town of Cupid's Bow and raising her girls but let's face it, she has no time for a personal life. The late night antics of her bachelor firefighter neighbour Will, who obviously enjoys a prolific dating life just make it that much more obvious how much she's missing in that department. They have a somewhat fractious relationship as a result, until Will's propensity to help out his friends ends up with a 5 month old baby on his doorstep while the young mother seeks addiction help. Will's first instinct is to turn to his mother for help, but she's planning two weddings, so his next best choice is seeking out Megan next door. He knows she's experienced with children as he sees her with her girls all the time and they seem to be quite happy together. Megan can't say no to a baby who needs her help, nor the bachelor playboy who is obviously out of his element. But as she helps Will out, she discovers that there is a lot more depth to him than she first thought, and she realizes that she's misjudged him. The more time they spend together, the more she realizes just how much she's been missing the companionship and attention of an adult partner. She knows she should guard her heart against Will, who will presumably go back to his bachelor days once his babysitting stint is over. Can he convince her that he's ready to put his single days behind him for a chance at a future with her and her girls?
What a lovely story! Even though there are some serious issues mentioned (Will's friend's addiction problem, Megan's adulterous ex-husband, etc.) it maintains a lighthearted feel throughout, with the added bonus of some very sweet Christmas scenes. Megan's three girls, Iris, Daisy and Lily are quite adorable, yet display the realistic persona of young girls with very different characters. I really loved how they were unique in temperament and had their own likes and dislikes, and especially that Will paid attention to all three girls right from the start and could tell them apart based on their actions. Similarly baby Tommy acts like a typical 5 month old and it was fun to see Will learning to take care of a baby, since he'd never expected to be thrust into this type of situation. He handles Tommy with the care and attention he deserves, and his good guy persona really shines when he's with the children.
As much as I enjoyed the scenes with the children, it was equally heartening to see Will fall for Megan and vice versa. They do get to spend a few scenes together just on their own, and there are some sweet scenes between them, including a few stolen hours one night together where they cement their physical attraction to each other. As Will spends more time with Megan and the girls he realizes that going back to his bachelor days of dating different women without a commitment is no longer what he wants in his life, especially with his brother getting married and the loving relationships he sees happening around him. The trick is convincing Megan, once Tommy's mom is back in the picture and he's child-free again, that he is ready to move forward with her. The result is a lovely happy ending for this couple and instant family that left me smiling, and wanting to read more of the Cupid's Bow series.
If you're looking for a small town romance with enjoyable characters and a sweet romance with a single mom who gets the partner she deserves, this story should definitely go on your list.

Book Info:

Publication: Nov 1, 2016 | Harlequin Western | Cupid's Bow, Texas #3
AN UNEXPECTED GIFT
As the single mom of triplets, Megan Rivers has no time to spare, especially for her playboy neighbor, Will Trent—she's been burned by his kind before. But when the flirty firefighter pleads for her help with an adorable baby boy suddenly left in his care, Megan can't say no…for the baby's sake, of course.
After his fiancée ditched him, Will had been enjoying the single life. Now he's taking the kids to see Santa and picking out Christmas trees with Megan, and he realizes he likes being a family man. Will's ready to give love another chance, but can he convince Megan to do the same?