The The Corner of Heartbreak and Forever by Addison Cole finds Grace Montgomery returning to her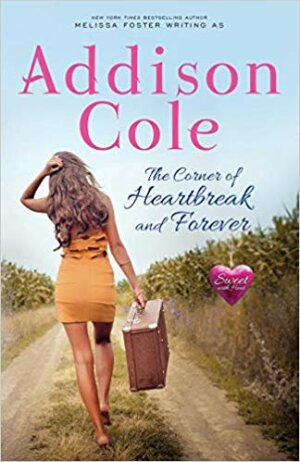 hometown of Oak Falls to teach a screenwriting class at her sister's bookstore. The last person she expects to see is her first and only love, Reed Cross. She left Reed behind to go to New York to chase her dream of becoming a screen writer and a producer, after he refused to leave Oak Falls to go with her. Reed also ended up moving away, only returning after discovering his girlfriend in bed with his business partner and his uncle having a heart attack. Grace is only in town for a few weeks, but will Reed be able to convince her that to stay?
Addison Cole's stories are labeled sweet with heat, and sweet is exactly what this story is. Reed goes out of his way to prove to Grace that he never stopped loving her, even bringing her the same flowers he used to give her once a month when they were dating in high school. At that time they had to hide their relationship as they went to rival schools. Now Reed wants to make sure everyone knows they are together, even Grace's family.
"Get back in that house, woman."
"Excuse me?" she said with wide eyes.
He held the flowers tighter to keep from reaching for her, because once she was in his arms, he wasn't going to let go. "I have never had the opportunity to pick you up for a real date. I'm not missing out on that again. Now, get your fine behind back in the house and let me knock on the door like a gentleman."
While I liked Grace, I found her a little frustrating at points. For example, she was angry at Reed for leaving for Michigan after she took off to New York to go to school. She never stops to think about why he moved away, which was because it was too painful for him to be there without her. She also keeps saying she has no plans to stay in Oak Falls. While Reed tries to come up with ideas to make their relationship work, she doesn't really contribute any suggestions of her own. At times it felt like Reed was more determined to make their relationship work long-term than Grace was.
I loved Grace's family. They're an interesting group of characters that often had me laughing.
Reed put his hand on Grace's lower back and said, "I won't have her back too late."
"Keep her as long as you want her. Overnight if you'd like," Marilynn said.
"Mom!" Grace said with a laugh. "Nothing like offering your daughter up for a good time."
"You take care of my girl, you hear?" Cade said with a friendly wink.
The Corner of Heartbreak and Forever is a sweet and charming small-town romance. The main characters will draw readers in, and the secondary characters will have readers wanting to know more about them. I'm looking forward to reading about the rest of the Montgomery siblings.
Book Info:

Publication: February 13, 2019 | Addison Cole |
Leaving New York City and returning to her hometown to teach a screenplay writing class seems like just the break Grace Montgomery needs. Until her sisters wake her at four thirty in the morning to watch the hottest guys in town train wild horses and she realizes that escaping her sisters' drama-filled lives was a lot easier from hundreds of miles away. To make matters worse, she spots the one man she never wanted to see again—ruggedly handsome Reed Cross.
Reed was one of Michigan's leading historical preservation experts, but on the heels of catching his girlfriend in bed with his business partner, his uncle suffers a heart attack. Reed cuts all ties and returns home to Oak Falls to run his uncle's business. A chance encounter with Grace, his first love, brings back memories he's spent years trying to escape.
Grace is bound and determined not to fall under Reed's spell again—and Reed wants more than another taste of the woman he's never forgotten. When a midnight party brings them together, passion ignites and old wounds are opened. Grace sets down the ground rules for the next three weeks. No touching, no kissing, and if she has it her way, no breathing, because every breath he takes steals her ability to think. But Reed has other ideas