In Promise Me by Robin Bielman & Samanthe Beck, Kendall Hewitt has arrived in California to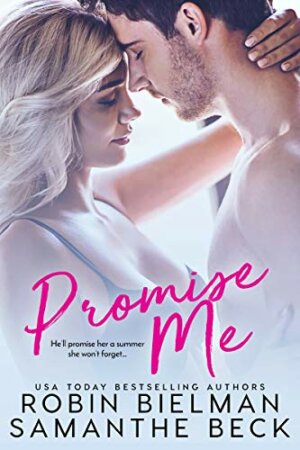 look after her aunt's house while she's away. However, not long after arriving she finds herself sharing the house with her two estranged sisters and doing her best to ignore the hot guy next door. Yet, the more time she spends with Vaughn Shaughnessy, the tougher she finds it to ignore the intense attraction she has for him. Will Vaughn and Kendall fight for their shot at happy ever after or will things that have happened in their pasts destroy any chance they have at a future?
"I've never met a Kendall I didn't like."
"How many have you met?"
"Counting you?"
Good to know his sense of humor is still intact. "Of course."
"One."
I smile, expecting he'd say that. "You're my first Vaughn."
"I'm honoured to take your Vauhgn virginity."=
I laugh. "You should be. Clearly I've been saving it."
Ms. Bielman and Ms. Beck are both brilliant writers individually, but the pair writing together are sublime and I absolutely loved this story. Really, the way this story started drew me into the story immediately, as Kendall is trying to figure out what she wants to do with her life. Will she discover a career she loves that she wants to pursue? Will her parents accept the decisions she makes when it comes to her future? However, it was from the moment the hero and heroine come face-to-face for the first time where this story really takes off, as Kendall and Vaughn meeting the way they do brings excitement and had Kendall thinking that Vaughn needed better friends.
As for the dialogue, it was a wonderful combination of intense moments due to the main characters pasts and the obstacles these two face to be together and playful banter that had me loving the growing relationship between Kendall and Vaughn, as Kendall is a very private person but Vaughn brings out the best in her and shows her that she shouldn't let past mistakes hold her back from being happy. Moreover, the main characters are complex and fascinating characters and the secondary ones entertained me just as much as the main ones, as readers get a good dose of how estranged Kendall is from her sisters and how they grow closer together as they help each other deal with their issues, even if one of Kendall's sisters dishes out sarcasm and can be a little harsh with her words.
"Say, You're the best neighbour ever, Kendall."
I drop to my knees and pull her into a soggy embrace. "Best neighbour ever." My surrender comes out bouncy with laughter. "You win. You win all the things."
"I feel like a winner," she whispers, and runs her fingers through my wet hair.
I pull her face close for a kiss. "That makes two of us."
With the heroine, she's smart, kind, caring, determined in her pursuit of finding out what she wants to do with her life and I liked that she took a chance on Vaughn, even though his life is one in the spotlight and she's a very private person. I also liked how she dealt with the past in order to help her move on from her mistakes despite how hard it was for her to face it. Certainly, Kendall facing her past brought a little bit of tears but at the same time helped to set her free. Really, she couldn't continue to blame herself for what happened. While the hero, he's honorable, loyal, sweet at times and I liked his determination to win over the heroine. I also liked how he handled the relationship he had with his father because he's felt so much guilt over what happened in the past and he wanted to make his dad feel useful after what they'd lost as a family. However, did he do the right thing allowing his dad so much access to his professional life?
Overall, Ms. Bielman and Ms. Beck have delivered a captivating read in this book where the chemistry between this couple was off-the-charts; the romance was hot and had me loving these two together; and the ending was heart-warming because of what the heroine does for the hero at a moment where he needs her most. No way is she going to allow anyone to hurt the hero personally or professionally. I would recommend Promise Me by Robin Bielman and Samanthe Beck, if you enjoy the mysterious strangers trope, the friends to lovers trope or books by authors Gina Maxwell, Cindi Madsen, Rebecca Brooks and Naima Simone.
Book Info:

Publication: April 15th, 2019 | Entangled Publishing |
Instead of soaking up the SoCal sunshine while housesitting for my aunt, I'm dealing with a Pomeranian who thinks she's a Pitbull, two half-sisters who would happily prune me off the family tree, and him. Vaughn Shaughnessy. Hot model about to go nuclear, dangerously sexy flirt whose perceptive green eyes promise he's more than just a pretty face. He's the kind of walking, talking temptation I should avoid, but that's impossible because he also happens to be my extremely lickable—I mean likeable—neighbor.
He's turning me into a hot mess.
Thing is, I can't handle more messes in my life. I'm still trying to come to terms with the monumental ones in my past, and getting involved with Vaughn—even for temporary summer fun—is guaranteed to get messy. I don't dare risk it, but I'm not sure I can resist…