Forgotten Legacy by Robin Perini is the second book in her Singing River series. The first book, Forgotten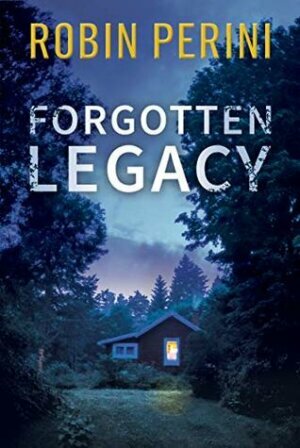 Secrets was first published in July 2016. It was one of my "Top 5" books that year. I didn't know if the author was planning to write more books about Riley Lambert, Thayne Blackwood and the people of Singing River but I was really hoping she would. I am guessing Forgotten Legacy will end up being one of my "Top 5" books of 2019.
Singing River Sheriff Thayne Blackwood and FBI Profiler Riley Lambert are called to a burning cabin deep off the beaten path. The scene of the fire is gruesome. A couple is found in their bed burned to ashes. What a tragic accident! Everyone knows you should never smoke in bed. Wait a minute. Riley doesn't see this as an accident. Her view of the scene indicates to her this is probably a murder scene. Thayne, Riley's fiance, has learned to trust Riley's expertise and instincts. Also the couple's daughter is missing. She is a homeschooled twelve-year-old so she should have been home. A search for Chloe is begun.
This story has so much going for it – a keep-you-guessing storyline, intriguing plot twists, edge-of-your-seat suspense, jump-off-the-page realistic and very likeable characters, emotional depth and is very well-written. One of the main characters in both books in addition to Riley and Thayne is Thayne's grandmother. Gram suffers from Alzheimer's disease so she slips in and out of reality. This is significant because she has vital information Riley and Thayne need to keep everyone safe and solve the murder. Some of the scenes with Gram are very emotional. It is very difficult for the family and loved ones of Alzheimer sufferers to deal with the heartache of this disease.
Robin Perini has faced this devastation with her mother's Alzheimer's diagnosis. She is donating 10% of the royalties she receives for her Singing River novels to the Alzheimer Association.
Book Info:

Publication: April 16th 2019 | Montlake Romance | Singing River Legacy #2
Forgotten secrets. Forgotten lies. A family legacy…A determined killer.
On the outskirts of Singing River, Wyoming, a couple dies in a fire that ravages their remote mountain home. Everyone believes it's a tragic accident—except FBI profiler Riley Lambert. She isn't convinced, and neither is her fiancé, ex–Navy SEAL turned sheriff Thayne Blackwood. When they discover that the couple's daughter is missing, Riley's dark memories of her own sister's kidnapping ratchet up the urgency to find the girl—before it's too late.
Racing through a maze of deceit and a buried past, the pair find themselves under attack from an unknown assailant. Dodging danger, they follow a tangled web of clues pointing to a forgotten secret that Thayne's Alzheimer's-stricken grandmother holds dear. But when their deadly investigation veers too close to home and brings a twisted killer to Riley's and Thayne's doorsteps, can they save those they love and stop the murderer before time runs out?