The Crown Prince's Bride by Donna Alward: Stephani has been in love with the crown prince Raoul for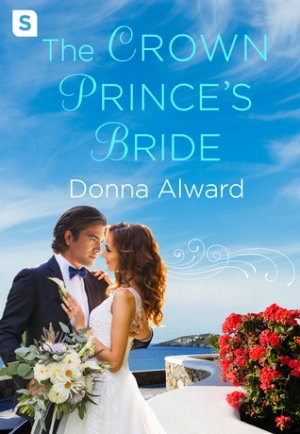 years, but until not so long ago he was married to her cousin and best friend. Now widowed, Raoul's heart is readying to open up again, and the attraction begins to bloom strong between Stephani and Raoul.
Stephani, although hesitant considering her relationship to Raoul as well as her position as his assistant, is willing to open her heart and find true love. Raoul, on the other hand, is terrified of finding love again, even as he knows he doesn't want to spend the rest of his life alone.
For as much as Stephani loves Raoul, it might not be enough for Raoul to get past his fears of heartbreak. But when it means losing her forever from his life, Raoul will have to get over his fears.
I did enjoy Stephani and Raoul together; they certainly fit well. However, there was so much insecurity in the story that I was mostly annoyed by them. No one knew where they were with the other or how they really felt.
While I don't want to spoil anything, later in the story the author definitely goes down a cliché road which I always hate, especially when it becomes the reason the couple gets back together. I wanted to like them both – and separately I did – but I just didn't want to be in their story.
Overall, for those who enjoy the royalty romance, I recommend THE CROWN PRINCE'S BRIDE. It may not have been for me, but I can say they had a passion and tension in the good moments.

Book Info:

Publication: January 9, 2018 | Swerve | Royal Duology #2
A Crown Prince gets a second chance at love with the woman who's always been there – in the next book in the prince duology from Donna Alward!
The Crown Prince of Marazur is suffering from a broken heart. After losing his wife and future queen, he knows he'll never find love again with a partner as wonderful as her. He's thrown himself into his duties and is trying to be a better father to his two children, but he's lonely. Even though falling in love seems impossible, so does spending the rest of his life alone.
Stephani has been Raoul's assistant for years. Smart, loyal, and discreet, Stephani is fantastic at her job. Except for the fact that she's been in love with her boss since her first week of employment, not that she would ever act on it. Besides, Raoul is first in line to the throne and she's his assistant. If Raoul ever marries again, it'll be with someone who can be a future queen. Not someone like Stephani.
When Raoul's date for a state dinner is unable to attend, he invites Stephani. She's well-versed on the issues and castle protocol, and Raoul's always been comfortable with her. But when Stephani arrives, Raoul hardly recognizes her. Is this stunning woman the same one who's run his office for years?
The Crown Prince's Bride is the ultimate fairy tale for readers looking for Cinderella to get her prince—and be able to keep him past midnight.