In The Curse of Tenth Grave (Charley Davidson #10) by Darynda Jones, Grim reaper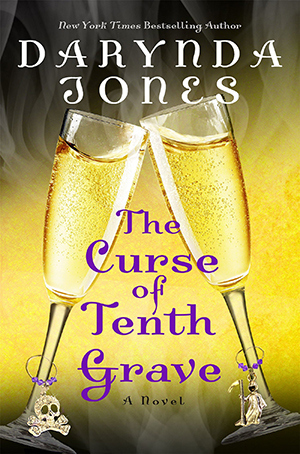 Charley Davidson couldn't be more happy to be back at home in Albuquerque, New Mexico with her husband Reyes and their friends. And her newest case at her part-time gig as a private investigator is a doozy. She's going to have to prove a man's innocence in a murder case or suffer the wrath of the assistant district attorney. That's in addition to helping a local homeless girl who believes she's cursed. Oh, and the little issue of keeping Charley's daughter safe against the forces of evil. You know. Just everyday normal stuff. Well, for Charley it is, anyway.
'I was always breaking some celestial being's rules. They could bite my ass. Every last one of them. I was doing the best I could with what they gave me. If they wanted me to do better, they should have graced me with the Girl's Guide to Grim Reaperism.'
Charley's other big concern is in regard to her hunky husband Reyes. Ever since their return from New York, he's been keeping his distance emotionally and sadly physically as well. It leaves her to wonder if he knows more about his past than he is letting on or if she's done something to cause the rift between them. What Charley's always been able to count on the most is Reyes having her back and the crazy-hot chemistry between them. And with everything else going crazy around them, as usual, she's going to fight to make sure their relationship doesn't become a casualty.
"But the thought of not loving you anymore? Reyes, I can't breathe when you aren't near me. I can't think straight."
"I'm glad to hear that."
Charley, Reyes, Cookie and the rest of the crew are back in The Curse of Tenth Grave. And what a story! So many important things happened this time around that I can't even imagine what world-shattering secrets will be waiting for us in book eleven.
"She's dark and powerful and fierce," I said to him. "And she's no more human than you or I."
He squeezed me to him and then bent over the carrier. Beep took hold of his finger, and he laughed, as amazed as I was.
I love any time I get to spend with Charley and her hilarious group of loyal friends and family. And we truly got some quality time in this book with all the characters who have become a big part of her life. Author Darynda Jones has been building the momentum with each new installment and it seems like even though Charley was just as funny as ever, her world has gotten more serious and the stakes are much higher for her now. Her relationship with Reyes became more complicated, if that's possible, since we last saw them, and things continued to gear up in the fight between good and evil. (Or in some cases, evil against lesser evil.)
The sense of family was a lot stronger in this book than it was of course in The Dirt on Ninth Grave, now that Charley figured out who and what she is again. It was so nice to see her back in her element. Her PI work started back up with a bang and we got to see her lovely caring side as she looked after a scared homeless girl. I think what I liked most was to see Charley really coming into her own here. She started to figure out what she was capable of and (mostly) thought things through before making decisions that would affect her and her family. I liked that bit of maturity she showed and how it led to more communication between her and others. Especially with Reyes.
Filled with snarkiness and coffee, Charley Davidson hit Albuquerque by storm as she fell back into her daily grind as part-time PI and full-time grim reaper. I think fans will appreciate the level of intensity–and complexity–this new story adds to Charley's world. Highly recommended.
Book Info:

Publication: June 28th 2016 | St. Martin's Griffin | Charley Davidson #10
As a Part-time PI and fulltime grim reaper, Charley Davidson has asked a lot of questions throughout her life: Why can I see dead people? Who is the hot supernatural entity following me? How do I get gum out of my sister's hair before she wakes up? But, "How do I trap not one malevolent god, but three?" was never among them. Until now. And since those gods are on earth to kill her daughter, she has little choice but to track them down, trap them, and cast them from this dimension.
There's just one problem. One of the three stole her heart a very long time ago. Can the Razer, a god of absolute death and destruction, change his omniscient spots, or will his allegiances lie with his brothers?
Those are just a few of the questions Charley must answer, and quick. Add to that a homeless girl running for her life, an innocent man who's been charged with murder, and a pendant made from god glass that has the entire supernatural world in an uproar, and Charley has her hands full. If she can manage to take care of the whole world-destroying-gods thing, we're saved. If not, well…