The Dachshund Wears Prada by Stefanie London: All it took was for one live streaming mishap to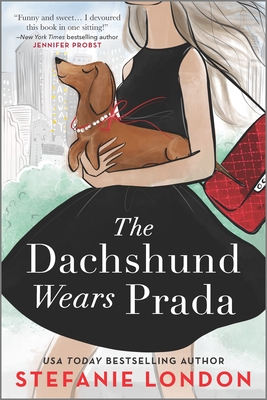 completely ruin all of Isla's hard earned work, now not only is she jobless but she is completely blacklisted in the social media industry. But with a younger sister to care for Isla doesn't have the luxury of hiding at home and hoping this snafu will blow over, she has bills to pay and with her saving already running low she needs a job fast! She just did not expect to find herself being a glorified dog sitter, but hey a girls got to do what a girls got to do. And it really doesn't hurt that her new boss is a total hottie! All she needs to do now is win over Camilla the posh snappy Dachshund and stop fantasying about the reserved Theo Garrison.
After the sudden death of his dear grandmother, Theo can't help but feel truly alone in the world. Well that's not entirely true he does have a newly inherited moody pampered pooch Camilla. However the last thing that Theo needs in his strictly ordered life is one unruly Dachshund that doesn't even like him, but Camilla is his last link to his grandmother which makes the furry little devil his family. If only she would stop scaring off all her minders, so when the agency drops them as a client Theo does something completely out of his privacy loving character and hires a random girl from the park… at least Camilla seems to like her. Soon Theo can't help but find himself getting caught up in the sunshine that is Isla but can New Yorks most famous recluse truly let his walls down?
The Dachshund Wears Prada was the perfect read! I loved everything about this book and then some, not only did London capture the essence of life in the Upper East Side perfectly but she added in a cute furry twist to this love story. Starting with the catchy title and cover this book had me making grabby hands and let me just tell you the storyline only made this already attractive looking book all the more of a winner for me.
I just adored Isla to bits, she has to one of my all time favourite leading ladies. Not only was she a genuinely nice person that loved what she did but she had this warm sunshine hug feel to her that even Theo's closed off heart felt. Her love for social media was pretty evident throughout the book which only made me feel ever worse for her after that little blunder, nevertheless I loved that she pulled herself up and dusted her she off. I just loved getting to see her interact and earn Camilla's trust, I really liked that she didn't just write the dog off but instead put in the work to get to know her. As much as Isla was bonding with Camilla I loved getting to see her bring life to Theo's cold and barren apartment and largely to him as a person as well. I respected the heck out of Isla for the bond and safety net that she had created for her sister and that she wanted Dani to have the chance to be a child without worry.
As for our most eligible recluse Theo, gosh my heart just broke for our hero. He really hasn't had the easiest of lives with losing both his parents and it being so public and now to lose his grandmother. I can't say that I blame him for being so closed off but I just loved seeing Isla knock down all those walls and shine some light and love into his life. I just loved how much he had in common with Camilla, both of them had this gruff hard exterior but underneath they were both scared, alone and afraid to get hurt again, this made getting to see them finally bond all the more sweet. I have to say I loved the bond Theo formed with Camilla almost as much as I loved the bond he formed with Isla.
For a four legged sassy fur ball Camilla played a huge key role in this book, so much so I would go as far as to say that she was a main character. I loved that she had so much of character, sass, attitude and life to her. It was just heart melting getting to see that spark return to her eyes after having lost her human. For me the thing that made this book perfect was that it highlighted the extravagance of the lives lived in this society so much so that even their dogs had hectic social lives! I just loved the instagram account that Isla formed based of Camilla, this had such Gossip Girl vibes to it and made the book all the more fun to read! It was also really nice getting too see Isla find her way back to her true passion while also find a new market to break into with the help and support of her bestie and sister.
There is nothing I love more than getting to see two closed of people falling hopelessly in love and this is exactly what we get in this must read novel! The Dachshund Wears Prada was the perfect cute yet heart breaking romcom on the market! This book is a total must read, I can not wait to return to the Paws In The City series!
Book Info:

Publication: May 3, 2022 | HQN | Paws in the City #1
How do you start over when the biggest mistake of your life has more than one million views?
Forget diamonds—the internet is forever. Social media consultant Isla Thompson learned that lesson the hard way when she went viral for all the wrong reasons. A month later, Isla is still having nightmares about the moment she ruined a young starlet's career and made herself the most unemployable influencer in Manhattan. But she doesn't have the luxury of hiding until she's no longer Instagram poison. Not when her fourteen-year-old sister, Dani, needs Isla to keep a roof over their heads. So, she takes the first job she can get: caring for Camilla, a glossy-maned, foul-tempered hellhound.
After a week of ferrying Camilla from playdates to pet psychics, Isla starts to suspect that the dachshund's bark is worse than her bite—just like her owner, Theo Garrison. Isla has spent her career working to make people likable and here's Theo—happy to hide behind his reputation as a brutish recluse. But Theo isn't a brute—he's sweet and funny, and Isla should not see him as anything but the man who signs her paychecks. Because loving Theo would mean retreating to his world of secluded luxury, and Isla needs to show Dani that no matter the risk, dreams are always worth chasing.