The Dating Dilemma by Mariah Ankenman: Accusing the super-hot firefighter at her workplace for an inspection of being a strip-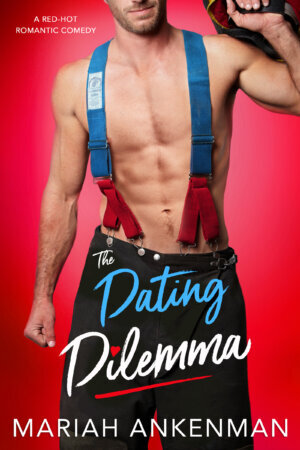 o-gram is just the way Lexi's life is going. When she's provided a laundry list of things that need to be fixed to pass the inspection, she has very little hope of success, but the studly firefighter offers his time to help fix the issues. Dyson starts coming around to help with things around the youth center and the tension grows between the two.
However, Dyson has sworn off dating after he found his fiancée in bed with his best friend, and Lexi has a 6-month no dating pact with her roommate since she normally gives too much to relationships. When Dyson goes to one of his family dinners with his sisters where they try to set him up, they've gone one step too far. After talking to the other firefighters, he's thrown the possibility of a fake girlfriend to get them off her back.
When asked again about his relationship status, he says that he already has a girlfriend and that it's Lexi. Dyson approaches Lexi about potentially helping him out as a favor for helping her with the fire inspection details. Lexi agrees and they start to work on the terms of their relationship. With Lexi's pact on the line and Dyson's bet with his coworkers that they can't convince his sisters that they are dating for a month, the odds are against them. Each interaction they have with each other makes them question whether or not they want to be fake dating or if their feelings are making it real. With siblings, friends, roommates, and Lexi's cat involved, it's not going to be an easy journey.
Lexi is so dang relatable. She speaks literally everything on her mind and tries to please everyone. Lately she has been giving her all without taking anything for herself, and that's what her pact with Jordan is about. As her best friend, he wants to see her happy with her life. Dating Dyson brings Lexi out of her shell and helps her be surrounded by others who lift her up instead of putting her second. She leaves a lot of her tension behind in the book, which is the healthiest thing that could've happened to her.
Dyson is the epitome of "I've been wronged so I'm not taking any more chances," and it's apparent in his relationships. After having experienced loss starting at a young age with his parents and continuing to his fiancée and best friend, he fears ever trusting someone again. When he starts to build a friendship with Lexi, he finds she is easier to talk to and be around in general than anyone else that has been in his life. She starts to break down his walls, and he questions whether to break his rule for her or not.
Overall, the book was such an easy read! The way the characters interacted was flawless. They had such a camaraderie between each other that you felt like you knew everyone. There wasn't too many characters to keep track of, but definitely enough that you know there are more places the books can go. Super steamy romance is involved too, which is not for the faint of heart.
Book Info:

Publication: January 24, 2022 | Entangled Publishing, LLC (Amara) | Mile High Firefighters #2
Lexi's Reminders
* Work.
* Don't think about your birthday tomorrow. Or debt, your crappy apartment, and nonexistent social life.
* Re-stock wine and ice cream because that's coming.
* Die in a raging blaze of humiliation when the super-hot and very delicious fireman waiting in your office is not in fact the strip-o-gram birthday present you suspected.
* Reschedule the fire safety inspection you 100 percent failed because of said humiliation.
* Figure out how you, in fact, agreed to fake dating Mr. Not a Strip-O-Gram Fireman to help him with a bet.
* Oh yeah, and do not fall for this guy. Seriously, they call him One Night O'Neil. Red flags all over the place.
* Remember, this is fake dating, even though his very talented, very real lips are doing some sexy things you definitely like.
* Realize bending one tiny rule can't be that bad, can it?
* Except bend too far, and something breaks. Something you can't get back.