Digging Up Love by Chandra Blumberg: Alisha Blake may be a small town baker working for her grandfathers restaurant but boy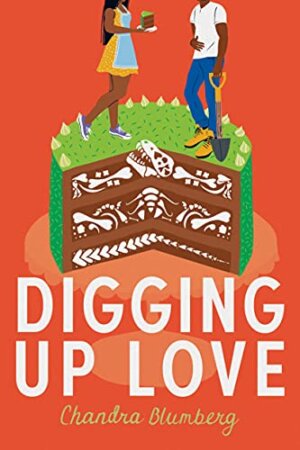 does she have big dreams, dreams of opening up her own cookie shop in Chicago. However things take an interesting turn when a dinosaur bone is fond in her grandparents yard! Yes, you read that right a dinosaur bone, which bring in a whole bunch of drama, starting with one broody palaeontologist and a whole lot of camera crews!
The last thing Quintin Harris expected was to come face to face with a newly discovered dinosaur bone, but like any good palaeontologist he can't help but want to get abetter look at the ancient mystery, he just never expected the fiery baker that came with the bone or sparks to fly instantly. But can things really work out between the girl who is nervous to fall in love and the guy who is trying to mend his broken heart?
Digging Up Love was such a cute story, I have to say that I really enjoyed the fact that the central topic that brought our two main characters together was a dinosaur bone, I loved that this this was such a unique take. Also as a huge baking fan myself this book just called out to me, and let me just tell you all those baking scenes will have you wanting to bake up a storm.
I loved both Alisha and Quintin, the instant chemistry between these two was just the perfect mix of will they or won't they, that left you wanting more. I will say that the only draw back in this book was that the romance was all fade to black. I absolutely loved that as the book progressed we got to see Alisha becoming more and more self confident and coming into her won. As for our hero Quintin, he just was great, I really liked getting to see him open up and grow past his break up.
I have to mention that Blumberg has done a great job with explaining and describing all things regarding the dinosaur bones and the entire part relating to palaeontology. Not only was it informative but it also flowed seamlessly with the entire story. As much as this was a romance there were a number of heavy topics that got highlighted. I have to say that the entire topic regarding family obligations and sacrifice was depicted very well.
My only disclaimed would be going in make sure that you are stocked up on sweet treats because Alisha will sure have you craving a cookie or two as you read this cute romance.
Book Info:

Publication: January 1, 2022 | Montlake | Taste of Love #1
Alisha Blake works her magic in the kitchen, creating delectable desserts for her grandfather's restaurant in rural Illinois. Though Alisha relishes the close relationship she has with her family, she can't help but dream about opening a cookie shop in Chicago. She may be a small-town baker, but Alisha has big ambitions.
Then a dinosaur bone turns up in her grandparents' backyard. When paleontologist Quentin Harris arrives to see the discovery for himself, he's hoping that the fossil will distract him from a recent painful breakup. Instead, he finds Alisha—and sparks fly. The big-city academic and the hometown baker seem destined for a happily ever after.
But Alisha is scared to fall in love. And Quentin's trying to make a name for himself in a competitive field, which gets even more complicated when the press shows up at the dig site. For love to prevail, the two may have to put old bones aside—and focus on the future.