In The Dead Romantics by Ashley Poston, Ghostwriter Florence Day had a great relationship with her now former editor. The three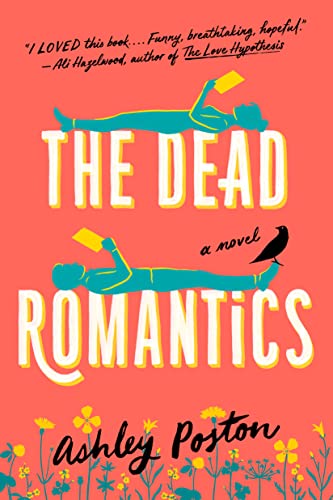 novels she's written for bestselling author Ann Nichols have all been huge successes and were received with praise from the industry and fans alike. But the fourth book in Florence's contract with Falcon House Publishers isn't going so well. Like, at all. She knows her lack of inspiration in finishing the romance is thanks to the end of her last relationship about a year ago. To say it ended badly is an understatement. And it left Florence no longer believing in true love.
"Are you scared of ghosts?"
He stiffened. "No."
He said that *way* too quickly.
"You are! Oh my god, *you're* a ghost."
"Supernatural things upset me."
"I promise no *wittle ghostie* is going to hurt you, Benji Andor," I teased, "and if any of them do, they'll have me to contend with."
Florence's new editor, gorgeous and serious Ben Andor, is her polar opposite. And unfortunately he doesn't grant an extension on the manuscript's due date as she'd hoped. But then Florence's personal life takes a major tumble when she learns of her wonderful father's passing–so back home to South Carolina she goes to patch things up with her family and try to keep a low profile. The fact that Florence can see and talk to ghosts made it tough for her growing up. Particularly since her family's business is the Days Gone Funeral Home. As she helps her family set up the service for her dad, Ben shows up at the door–as a ghost. Unsure what happened to him, Florence will do her best to help him. Although as they work through the details together, Ben might just be the one to help her believe in love all over again.
And then I smiled. "You know, you being angry on my behalf is kinda sweet. I wish I'd met you sooner when you were alive."
He returned the sad smile. "Me, too."
A ghost story with romance and a happy ever after? Yes, indeed. The Dead Romantics was an amazing adult debut by Ashley Poston that kept me howling with laughter in between ripping my heart out with what seemed to be a no-win situation for an author and her new editor.
'I began to realize that love wasn't dead, but it wasn't forever, either. It was something in between, a moment in time where two people existed at the same exact moment in the exact same place in the universe.'
Tears and laughter, sorrow and joy were all wrapped up in Ashley Poston's memorable storytelling in The Dead Romantics. A book that celebrated romantic literature of every genre, I absolutely loved the premise–and ended up falling in love with the characters as well as our heroine Florence's tiny South Carolina hometown. Poston did delve into some serious topics at times: death of a family member, an intense breakup, cheating is briefly mentioned, and bullying. But she also peppered in some wonderfully funny moments, keeping the overall tone of the story from getting too dark.
From the start, I knew I would be a hundred percent on Florence's side in whatever got thrown at her. And plenty did! As a ghostwriter for one of her idols, she had received critical acclaim for her novels…until she went through a terrible breakup and basically stopped believing that everyone finds their true love. It was sad to see Florence go from hopeful and a bit starry-eyed to cynical. But it was understandable. It took her having to go home, deal with unfinished business in her family as they also laid her awesome father sadly to rest–and helping a few ghosts move on–for Florence to rediscover her love for, well, love.
I will note that there were two distinct, very clever plot twists that Poston threw at readers towards the last quarter of the book that will shock you in a good way. And it will make everything not only make sense but it also made a huge impact on Florence's life from then on. I think romance fans will enjoy every moment spent with this offbeat group, learning about the Day family's unwavering love for each other, how much a community can help shore up their own who are in need, and how *true* love wins. Every time.
QOTD: Do you believe in happily ever afters in real life?
Book Info:

Publication: Expected publication: June 28th 2022 | Berkley |
A disillusioned millennial ghostwriter who, quite literally, has some ghosts of her own, has to find her way back home in this sparkling adult debut from national bestselling author Ashley Poston.
Florence Day is the ghostwriter for one of the most prolific romance authors in the industry, and she has a problem—after a terrible breakup, she no longer believes in love. It's as good as dead.
When her new editor, a too-handsome mountain of a man, won't give her an extension on her book deadline, Florence prepares to kiss her career goodbye. But then she gets a phone call she never wanted to receive, and she must return home for the first time in a decade to help her family bury her beloved father.
For ten years, she's run from the town that never understood her, and even though she misses the sound of a warm Southern night and her eccentric, loving family and their funeral parlor, she can't bring herself to stay. Even with her father gone, it feels like nothing in this town has changed. And she hates it.
Until she finds a ghost standing at the funeral parlor's front door, just as broad and infuriatingly handsome as ever, and he's just as confused about why he's there as she is.
Romance is most certainly dead . . . but so is her new editor, and his unfinished business will have her second-guessing everything she's ever known about love stories.