The Kiss She Claimed From the Greek by Abby Green's lovely take on the beautiful fairytale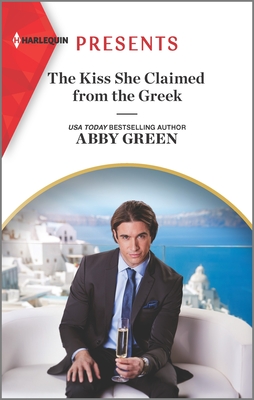 Sleeping Beauty. However, in this case the sleeping beauty is a dark and mysterious Greek who thinks his name is Darius.
When Sophie kisses the mysterious Darius awake, she has no clue it's the start of the most exciting adventure of her life. With the little Scottish Island booked to the brim; Darius recovers from falling down a mountain at Sophie's cottage. Their attraction is mind blowing and the morning Darius wakes with his memory fully recovered, he invites Sophie to come with him on a the most exciting worldwide adventure.
Darius, who is actually Achilles Lykaios, billionaire and owner of a renowned family legacy is absolutely taken by Sophie. She is the complete opposite of any woman in his world but he's not ready to let her go yet. Sophie isn't ready to leave Achilles side either and throws caution to the wind and accepts this once in a lifetime invitation to join him. As soon as Sophie is exposed to Archilles world, doubt creeps in. Sophie isn't sure she's cut out for the cut-throat world Achilles belongs in and to save grace she thinks the best decision is to go home. Departing with shock news, is confessing her love enough to bring Achilles out of his self-imposed rejection of love and family?
A lovely story. I loved how Abby Green demonstrated the night and day differences of the world Sophie was used to. I loved the little details like when Sophie sneezed after smelling overpowering perfume. Achilles was good inside and out but the past tragedy of his family has changed him. He knows Sophie is one in a million but is she enough to bring him his happy ever after?
Loved the Epilogue!
Book Info:

Publication: July 2022 | Harlequin Presents | Passionately Ever After #3
One kiss. That's all innocent Sofie MacKenzie intends to steal from the gorgeous sleeping stranger. But her moment of complete irrationality wakes him up! And awakens in her a longing she's never experienced.
Suffering from amnesia, Achilles Lykaios has forgotten everything: his tragic loss, his immense fortune, even his name. He only knows the intensity with which he wants Sofie. But when Achilles remembers the truth, he must return to his glamorous Athens life. There's one last thing he needs to know…if Sofie will come with him!
Book 1: A Baby to Tame the Wolfe by Heidi Rice
Book 2: Stolen Nights with the King by Sharon Kendrick
Book 3: The Kiss She Claimed from the Greek by Abby Green
Book 4: A Scandal Made at Midnight by Kate Hewitt
Book 5: Cinderella in the Billionaire's Castle by Clare Connelly
Book 6: The Princess He Must Marry by Jadesola James
Book 7: Undone by Her Ultra-Rich Boss by Lucy King
Book 8: Her Secret Royal Dilemma by Chantelle Shaw