The Decoy Girlfriend by Lillie Vale: Freya Lal has been harbouring a big secret… she just can't seem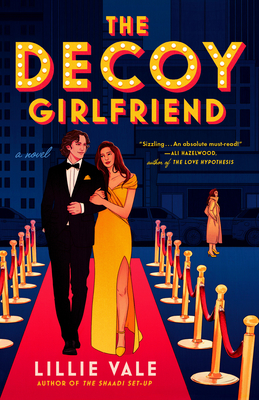 to write her second book. Yup, that's right Freya has the dreaded writers block, after the death of her mother Freya just doesn't seem to have the same drive or confidences in her work. Which is how she finds herself leaning into her other big secret; masquerading as her celebrity doppelgänger Mandi Roy. It all started out as a harmless way to get her creative juices flowing again but things take a major turn when Freya gets herself caught out in a very public setting by non other than Hollywood heart throb Taft Bamber, who also happens to be Mandi's boyfriend!
Now with Taft and Mandi's relationship on the line Freya has no choice but to step in and help with damage control or face having her secrete exposed. Freya just never expected that this would mean that she would be spending the next few weeks living with Taft and posing as Mandi… but what happens when her fake romance with Taft begins to start feeling like a very real relationship? Can Freya, Taft and Mandi find a way out of this complicated situation without jeopardising and of their careers?
The Decoy Girlfriend was just the perfect romcom read. I just love a good fake dating romcom and this book had a brilliant fresh take on this trope that really worked for me. I have to say as much as I loved that this was a cute light read, I also really liked that Vale addressed some hard hitting issues that our characters had to face. Also I absolutely love the idea that we each have a doppelgänger out there somewhere so this book really was just up my alley.
I just loved Freya, not only was she hilarious but she was also a genuinely nice person. I really enjoyed getting to see her finding her passion for writing again after the loss of her mother. I think getting to see her dealing with not only the loss of her motivation to write but also the person that was her biggest champion only made my heart break for her all the more but also made me root her on as she found her footing again. I really loved the relationship that Freya had with her aunt and the book store. Books And Brambles was just beautiful, this was the perfect description of a dreamy book oasis.
Taft Bamber, gosh this guy just stole my heart! There was nothing not to love about him. Taft was genuinely a great guy and I just loved getting to follow him as he found his happily ever after. Not only was he selfless but he was loyal to his core. Gosh did my heart just hurt for Taft though, even with all the fame and money that he could dream of all he really wanted was to feel included and to have a good relationship with his old cast mates but gosh this just wasn't the case.
The chemistry between Taft and Freya was HOT!! I just loved getting to see these two tip toeing around their attraction for each other. The fact that they hit it off even before they found themselves in this little charade only made their build up all the more satisfying. I just loved getting to see them try to maintain a professional boundary while still trying to prove to the entire public that they are totally gaga over each other. As much as there was this insanely steamy chemistry between Freya and Taft I loved the fact that they helped each other step out of their comfort zone and really live again. It was a total swoon moment with the way Taft helped push Freya to continue her book and not just delete each attempt, he was the cheerleader that she was so desperately in need of but to afraid to ask for. Where as Freya helped show Taft that it was perfectly alright to want things for your self and to really put himself first for a change.
The other major character in this book was Mandi, now to be fair I really expected her to be this spoiled mean diva, but I was thrilled to find that she was no where near this person. I actually found that I really liked Mandi, granted we don't get very much time with her but this only made me hope that Vale gives Mandi her own book soon!! I really liked the relationship that Mandi formed with Freya and that she too had been rooting Taft and Freya on.
The Decoy Girlfriend is a definite must read, this silly cute fake turned real romcom checked all the right boxes. I can not wait to get my hands on Vale's next book!
Book Info:

Publication: September 6th 2022 | G.P. Putnam's Sons |
Writer Freya Lal has a huge secret: she's a dead ringer for It-girl actress Mandi Roy. Her second novel is due in a month, but inspiration is nowhere to be found. Desperate to shake off her writer's block, Freya leans into her look-alike abilities and indulges in some mistaken identity for simple perks, like scoring a free mimosa or getting into a trendy nightclub.
Actor Taft Bamber appears to have it all: gorgeous, talented, and Mandi's love interest both on- and off-screen. But what nobody knows is that their relationship is a PR stunt, and after years of playing make-believe, he's yearning for something real.
When Freya's latest impersonation of Mandi goes viral thanks to Taft's accidental interference, rumors of a breakup threaten Hollywood's golden couple. To make amends, Freya is forced to give Mandi a little time off: she'll pretend to be the actress for a month, move in with Taft, and squash the rumors by acting completely in love. But as Freya and Taft play house, it becomes impossible to ignore that their instant chemistry isn't just for the cameras. While faking it, they might have just found the real thing.