In The Divorce Party by Jennifer Hayward, Lilly Anderson (De Campo) left her wine magnate husband, Riccardo De Campo,twelve months ago. She felt she had to leave or she would have been destroyed by their relationship.
"I'm through with men who make my heart pound and my palms go sweaty. It's self destructive for me."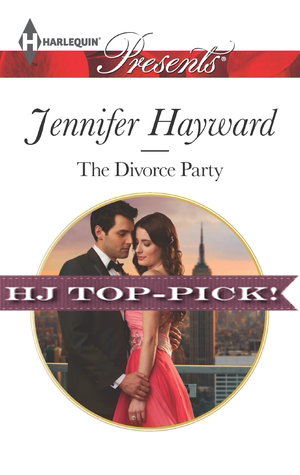 She's trying to move on with a new man, Harry Taylor, a cardiothoracic surgeon, but first she needs her husband to agree to a divorce. Riccardo agrees to give her a divorce if she will attend a party at which they will announce their divorce. Once at the divorce party, however, Riccardo informs Lilly that there's been a slight change in plans:
"I need you to remain my wife for six more months." Her jaw dropped open. "Wh-what?" "My father feels I need to present a more grounded image to the board before they make their decision on a CEO."
Lilly is all set to refuse until he offers her the home he bought for her. As much as Lilly loves the house, the fact that selling the house would provide her with more than enough money to get her younger sister ,Lisbeth, an alternative treatment for her leukemia that may be her last hope is what really sells Lilly. Riccardo's proposal is simple: be free in six months or face a long, financially ruinous court battle.
Lilly agrees and again assumes her place at Riccardo's side, but they are both still plagued by problems and secrets that caused Lilly to run in the first place. The more time they spend together, the harder it becomes to deny how much they still crave each other. But if love wasn't enough the first time, how can Lilly expect this time to be different?
I. Loved. This. Book! The Divorce party has all four of my must haves for a great romance and then some. I loved the main characters. Riccardo is arrogant and ruthless, but it's easy to see how much he cares for Lilly and wants her in his life. Despite her insecurities, Lilly had spunk and backbone that made me admire her, even when I wanted to shake her.
Both of these characters are complex and real. Hayward's use of a divorce party as the means of getting them to see each other again was fresh and added a nice setup of the "forced to reunite" trope. Although the reveal of their true feelings for one another was a little melodramatic, it was sweet and it fit the story. I don't think anything less would have forced these two stubborn people to final admit how much they loved each other. Lastly, I don't feel as if I missed out on any of their journey. I think it was necessary for Hayward to include a little piece after the immediate issues were resolved, just so I knew these two didn't muck it up again, and Ms. Hayward gave me just enough to know I could close the book confident in Riccardo and Lilly's happily ever after.
This is Jennifer Hayward's first book for Harlequin. She was the winner of Harlequin's 2012 So You Think You Can Write competition. I REALLY hope she has a long and storied career bringing us these kind of compelling reads. Congratulations and many more books for me to in the future, Ms. Hayward.
Book Info:

Publication: September 17th 2013 | Harlequin Presents Series #3183
"You threw your fifty-thousand-dollar engagement ring off the Brooklyn Bridge?"
Lilly shows up to her lavish divorce party with one goal in mind—to leave as quickly as possible minus a husband! Except he has other plans…and Riccardo De Campo isn't easy to say "no" to.
Forced back into Riccardo's glittering, gossip-fueled world, the price of perfection is still too high and Lilly's old insecurities resurface. An unexpected consequence of their reunion raises the stakes even higher, and the media's golden couple must finally confront the truth behind the headlines.
Congratulations to Jennifer Hayward, winner of Harlequin's 2012 So You Think You Can Write competition!