In The Do-Over (The Miles High Club #4) by T.L. Swan (8/30), Christopher Miles has a high profile life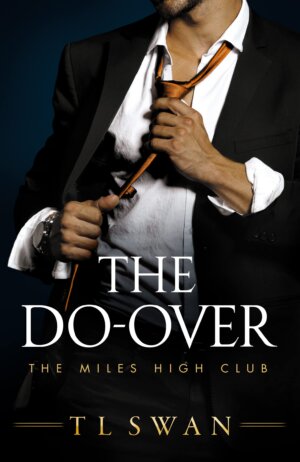 in the public eye as he splits his time between London and NYC. Being the youngest of the four Miles brothers, he's watched his siblings fall head over heels finding their One. Something Christopher scoffs at. Why would he–a billionaire marketing manager at his family's media conglomerate–need to settle down when he can have any woman (or women, plural) anytime he wants? But when one of his dates points out that he's all flash and no substance, Christopher figures it's time to try something different. Giving himself a year of backpacking across several countries will hopefully be the do-over he needs to find out what he wants out of life.
'Ever since the idea of a do-over came to me, I can't stop thinking about it. But do I really need to become invisible so that I can be seen? Am I overreacting?'
But it's one traveler, Hayden Whitmore, who shows Christopher just how far out of his comfort zone he's willing to go to make things work. It's not easy. And the odds are stacked against them from the start considering Christopher's not exactly being truthful about who he really is. But as Hayden gets to see the caring, bighearted guy under the womanizing exterior, she can see herself settling down with him. With each new adventure–and every hilarious fiasco–they go through, their bond gets stronger. Then the true test comes when their year of travel ends. With the truth finally out in the open, will Christopher and Hayden be able to compromise about their vastly different lifestyles? Or will the differences be too great to overcome?
'One of us has to lose everything in order for the other to be happy.'
A tongue-in-cheek romance that read like a lighthearted sitcom, The Do-Over was the final Miles brother getting his comeuppance–I mean, his chance to find love–as he traversed Europe backpacking with a rowdy crew of newfound friends.
"Don't look at me like that," she whispers.
"Like what?"
"Like I'm your next meal."
My eyes rise to hers. "Maybe you are."
Two things first: The Do-Over weighs in at about five-hundred and fifty-three pages, so it's an investment in time. And keep in mind that this was more of a rom-com than a straight-up contemporary romance so there's some melodramatics as well as over-the-top funny scenes. The theatrics and our hero Christopher's rather spoiled playboy ways might not sit well with some readers. But I thought T.L. Swan showed the depth of changes Christoper went through in the most comical of ways as she really put him through his paces.
I have to say that I was highly entertained while Christopher was knocked down a peg or two (or ten) by the world as he traveled across Europe. And I'm talking *the very first day* at his initial destination of Barcelona he found out his privileged background hadn't prepared him for trying to live the simple life. Everything went wrong for Christopher. Yet somehow he persevered. It didn't hurt that country girl Hayden was one of his roommates and that she saw through his mouthiness and swagger. She might have been reserved to start with, but Hayden became everyone's go-to person thanks to her kindness and positivity.
I think the other issue some readers might have was how Christopher let people think he was an average guy with very little money instead of the billionaire marketing manager in his family's media business he truly was. Lies of omission aren't my favorite thing in a book (or real life). But I could kind of understand Christopher wanting people to get to know the real him–not just see his family name. It became a point of contention as you would expect between him and Hayden. And oh the angst as they figured things out. But with the help of Christopher's family telling him like it was (lol) and a truly wonderful side character, teenager Eddie, who stole each scene (and my heart), showing him what was important in life, Hayden and Christopher worked things out in a way that was wholly their own.
QOTD: If there is a big lie of omission in a romance, will it keep you from finishing the book or do you keep reading to see how it will work out?
Book Info:

Publication: Published August 30, 2022 | by Montlake | The Miles High Club #4
In this sexy installment of the Miles High Club series from bestselling author T L Swan, a billionaire playboy goes incognito on a backpacking trip in Europe. But how long can he hide from love?
I'm wealthy, powerful, and able to get any woman I want.
So why do I feel so empty inside?
In search of a deeper me, I take a sabbatical from my privileged life. One year of backpacking around Europe: a new identity, no contacts, and no money. Not a bad plan, I think.
Until I get there.
A crowded hostel room, body odor, and beer bongs—there are no words for the fresh hell I've landed in.
But amid the chaos, I meet my new roommate, Hayden Whitmore. She sleeps in the bed opposite me, and I openly admit to staring at her more than I sleep. Beautiful, innocent, and smart. Not my usual type but perhaps the perfect woman.
There's just one small problem with the divine Miss Hayden. She's totally unaffected by my charm. Nothing is working, and now, I've been friend zoned.
What?
But the good thing about me is that I'm an incredible problem solver, and I've come up with a diabolical plan. I'm going to slide right in under her friend zone. Be the best damn friend she ever had, hold her hand, make her laugh, and spoon with her in bed.
But now there's another problem.
Hayden is the one who is sliding under my skin, and maybe friendship isn't enough.