Pieces of a Life by Jewel E. Ann: Everything changed the summer that Colten Mosley moved into the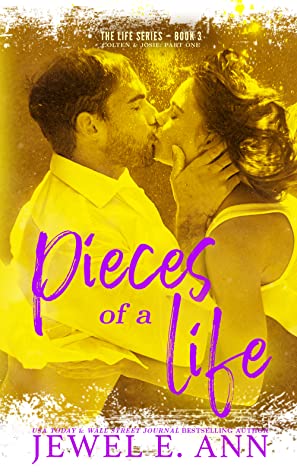 house across the street from Josie Watts. It was like love at first sight for these two, completely swept up in their own little world of friendship, young love and some incredible memories… that is until Colten completely crushed Josie's heart weeks before graduation.
Fast forward seventeen years and things have really changed with Josie gone is the timid girl that worried what everyone thought of her and in her place is the new and improved Josie one of Chicago's best forensic pathologists. But the one thing that has not changed is the hate that she still feels for her once sweetheart Colten, so when Josie learns that Colten is back in town and that they will now be working closely together she is more determined than ever to keep her heart safe around the charming detective, the only problem is being forced back into each others space also brings about some of those old feelings…the question is can they actually make it work this time round or are they destined to only end in pieces?
I just loved that this book is called Pieces Of A Life and that is exactly what we get when we drive into Josie and Colten's story. I will say I was a bit nervous that I would not like the paranormal element in this book but I have to say that I was pleasantly surprised that the entire paranormal element was pretty low until we are hit with a major suspense filled what just happened moment, which I quite liked. However at the heart of this book it was really a sweet second chance love story.
I just loved Josie, she was a ball of curiosity and determined to get to the bottom of any mystery put in front of her. I loved her passion and drive fir her abnormal job and that even though she still carried her childhood insecurities she was more comfortable in her own skin now as an adult. Whereas our hero Colten just wormed his way into my heart, still carrying around the regret of blowing up his relationship with Josie we get to see him try to work his way back into her good graces. I really liked that all he really wanted was to see Josie happy and to get back to the place that they were back before he broke her heart. Also let's just take a moment to just swoon and melt at Colten as a single dad!
The chemistry between these two was perfection, as far as perfect matches go these two just that perfect for each other. Their banter was a perfect mix of spicy and playful that made reading their story totally consuming. One of the things that I really liked was how real their relationship felt things were messy and complicated and totally heart breaking but also so full of hope and promise. I like that we got to see these two not only rebuilding their romantic relationship but their friendship.
Pieces Of A Life has a lovely combination of first love, coming of age, finding ones self all mixed in with an exciting paranormal suspense element. My only warning is that this book ends in one major cliffhanger and now I can not wait to read the next part of this story and find out where things go for Josie and Colten.
Book Info:

Publication: September 13th 2022 | Jewel E. Ann | Life #3
The summer before fourth grade, Colten Mosley moved into the house across the street from mine, and we became inseparable.
He played the piano and baseball.
I had a penchant for dead things while at the same time imagining what it would be like to kiss Colten.
We were filled with curiosity and overly active imaginations.
We were also forbidden to be more than friends.
But that didn't stop us.
Weeks before graduation, he annihilated my heart, and it's been seventeen years since the day I knew I'd hate him forever.
Now he's back in my life—a single dad and a homicide detective looking over my shoulder while I perform autopsies as one of Chicago's most gifted forensic pathologists. Then fate throws us a curveball.
Colten saves my life, but he can't erase the images that now keep me awake at night. And I can't explain them.
Am I still the girl he's always loved? Or nothing more than pieces of that life?