Claimed to Save His Crown by Pippa Roscoe: Be still my heart! Pippa Roscoe has rounded off this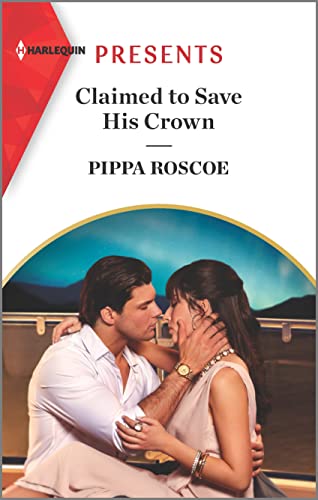 awesome mini series by saving the best for last, Claimed to Save His Crown.
Henna has it all going on at once! An attractive job offer to consider; a terrible step sister to deal with as well as a King to look after. Charged with helping Aleksander find a replacement fiancée, Henna just can't stop herself from telling him how she feels about everything when the opportunity arises. Henna has always been attracted to Aleksander but she's spent her adult life respecting boundaries with the royal family who treat her as their own. To the world Henna is a charming, beautiful, amendable and delightful character but she's had enough as she shines her true self; Aleksander can't help but be attracted to Henna's light.
King Aleksander has also been attracted to Henna but his way of dealing with it is running from it and fast. He has no clue how she could possibly fit into the role he requires filling but every word she speaks slowly crumbles the defence line he has formed around his heart. Then when they're forced to spend three days isolated and alone; is it time for Aleksander and Henna to face their true feelings?
I absolutely loved this story. It was full of drama, humour, adventure, heartfelt and challenging conversation and love that shone through all of Henna's actions. Pippa Roscoe helps two lost souls find their path together. I could not put Claimed to Save His Crown down and I adored it right till the very last word. Ecstatic with the battle of wills playing out, my heart was pumping. A beautiful epilogue rounded out a story that had thoroughly captured me.
King Aleksander is a pivotal character in books 1 and 2 but this can be read as a stand alone and enjoyed just as much. Duelling families; heartbreak galore, humorous banter; wilful challenges; delightful altercations and Pinterest recommendations (inside joke) everything I love about Presents.
Book Info:

Publication: September 2022 | Harlequin Presents | The Royals of Svardia #3
Lady-in-waiting Henna would do anything for the royal family that gave her a home when her own wouldn't. So after Henna stops a marriage that would protect King Aleksander's throne but ruin his life, she must face the Ice King's fury!
Aleks's coldhearted reputation isn't a secret. His tough exterior is designed to fiercely guard against the heartbreak that once tore his world apart. But then a transformational kiss with Henna awakens him to a surprising new possibility that could save his crown… And it starts with her!