The Dom Identity by Lexi Blake is the second book in her Masters and Mercenaries: Reloaded series. This is the series about the younger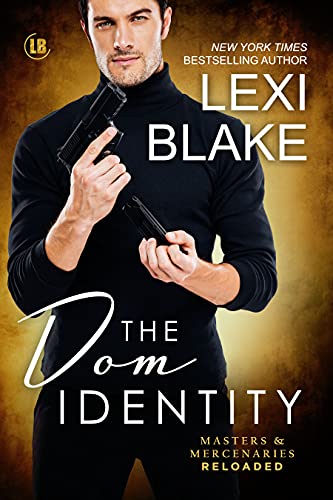 generation of McKay-Taggart agents. There's still plenty of Ian Taggart in this series. Thank goodness!
Heart pounding suspense, love and forgiveness and some super sexy scenes!
Former Hollywood actress Vanessa Hale has been dealt a low blow by the media. They portray her as a difficult-to-work-with actress who is an undiscerning tramp. When she married eighty-year-old billionaire George Benedict they labeled her a gold digger. After George's death Vanessa moves to Dallas to live in the house her deceased sister Nicki left her. Vanessa had been kicked out of her former home by George's son who is contesting the will. She meets Dani Lodge, Julian Lodge's wife and accepts her offer to work as her assistant, Nicki's job prior to her death. Vanesa finds Nicki's journal which leads Vanessa to believe her sister had a stalker, a dom she met at Julian Lodge's club, The Club, who caused Nicki's death. Vanessa is determined to get access to The Club so she asks to be trained as a submissive to get that access. Julian Lodge suspects Vanessa of embezzling money from Dani's company so he goes to McKay-Taggart to have Vanessa investigated. Enter Michael Malone as Vanessa's training Dom.
Michael Malone comes from a very weathy Texas oil family. When he was younger he felt he didn't fit in so he joined the Navy. He ends up working for McKay-Taggart. Michael has mixed feelings about Vanessa Hale. She looks guilty and he tends to believe the media stories about her. When he gets to know her he begins to doubt her guilt. Michael didn't plan on falling for Vanessa but it always seems to work out that way for McKay-Taggart agents. How is he going to explain away his investigation of Vanessa though?
The storyline is filled with action, off-the-charts, heart pounding suspense, great characters, hot scenes and witty dialogue. Oh, and dumb guys who make dumb mistakes when it comes to their women. I like how Ms. Blake sets up future stories with hints about characters and what they will face. I love Lexi Blake's voice. She writes can't-put-down books!
Book Info:

Publication: September 14th 2021 | DLZ Entertainment, LLC | Masters & Mercenaries: Reloaded #2, Masters and Mercenaries #23
A man with everything
Michael Malone seems to have it all. A wealthy, loving family. A job that fulfills him. Friends he can count on. But something is missing. He's spent years watching his brother and close friends get married and start families, but it hasn't happened for him. When an assignment comes up to investigate fallen Hollywood star Vanessa Hale, he jumps at the chance. She's gorgeous and potentially deadly. Playing the spy game with her might be just the thing to take his mind off his troubles.
A woman with nothing left to lose
Vanessa Hale had big dreams that ended in scandal. She returned home with nothing but heartache and the desire to find her mother's killer. The trail points to someone at Lodge Corp, so taking a job with Julian Lodge's mysterious company is her best option for finding the truth. While she hunts for a killer during the day, she hopes to find some solace at night in The Club. Meeting the gorgeous, sexy and seemingly kind Michael Malone, their chemistry sparks in a way she's never felt before, and Vanessa thinks maybe her luck has finally changed.
A love that might save them both
When Michael's true motives are revealed, she will have to find a way to forgive his betrayal. The killer has made Vanessa their next target. Working together and stopping this monster is the only chance for them to have the real love they both deserve.