The Empty Nesters by Carolyn Brown is a heartwarming trip through a story that delights and gives the reader a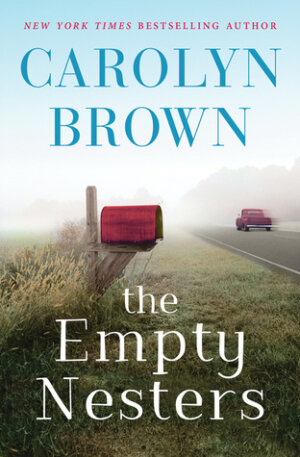 comforting feeling of love and camaraderie.
Three women who met as Army wives now have to face empty nests as their daughters all join the Army together. Joanie is happily married and sends off her daughter Zoe. Diana is divorced and sends off her daughter Rebecca. Carmen sends off her daughter Natalie and arrives home from dropping off the girls to divorce papers. Joanie, Diana and Carmen have been best friends for many years and have happily lived with their families on the same street in Sugar Run, Texas. That's where they met Tootsie and Smokey Colbert.
Smokey is long retired from the military and as he and Tootsie never had children of their own they were delighted when the three young military familes moved into their neighborhood. They basically adopted all three families as their own. Just prior to the enlistment of the girls Tootsie lost her husband Smokey to a heart attack. Tootsie has already purchased a motorhome which she planned to travel home to Scrap, Texas where she was born and raised with Smokey as they did every year in the fall. Without Smokey to keep her company she decides to invite the empty nest moms along for the trip to take their minds off of their daughters enlistment and other troubles. She asks Smokey's nephew Luke to drive and they start off on their extended roadtrip. They have good times as they travel along and stay in Tootsie's home in Scrap. Along the way Diana and Luke discover each other. Carmen starts to come to accept her pending divorce and Joanie learns to count her blessings.
The story is full of emotion, good times as well as bad times and the joy of friendhip and family. Carolyn Brown is known for her strong, loving characters and this book is full of them. I became emotionally involved with them and cheered them on to acceptance of their new lives and happiness. Carolyn Brown always delights me with her "feel good" stories.

Book Info:

Publication: August 20th 2019 | Montlake Romance |
The worst of times calls for the best of friends in this sassy novel about starting over, from New York Times bestselling author Carolyn Brown.
Dear friends and army wives Diana, Carmen, and Joanie have been through war, rumors of war, marital problems, motherhood, fears, joy, and heartache. But none of the women are prepared when their daughters decide to enlist in the army together. Facing an empty nest won't be easy. Especially for Carmen. With emotions already high, she suffers an even greater blow: divorce papers. Diana understands the fury and tears. She's been there.
With nothing to lose and no one at home, the girlfriends impulsively accept an unexpected offer from their elderly neighbor. The recently widowed Tootsie has an RV, a handsome nephew at the wheel, and an aim for tiny Scrap, Texas, to embrace memories of her late husband. Still grieving, she can use the company as a balm for her broken heart. So can the empty nesters.
Embarking on a journey of hope, romance, and healing, Diana, Carmen, and Joanie are at a turning point in their lives. And with the open road ahead of them, it's just the beginning.