The Maid's Spanish Secret by Dani Collins is a sexy 'secret baby' romance with a couple whose marriage of convenience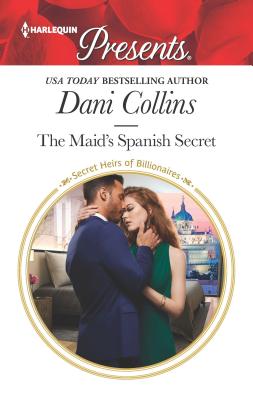 gets a real and well deserved happy ending.
When Poppy Harris, a maid for the Spanish aristocratic Montero family slept with one of the family heirs, she expected it to be a night that would give her some fun memories to relive when she'd returned home. After all, she was technically done working for the Monteros and leaving for Canada in the morning. What she doesn't plan on is that her unforgettable night with Rico is going to result in an unexpected pregnancy! Returning to her grandmother's rural home, she has the baby and the timing just never seems right to tell Rico about the child, until he shows up on her doorstep a few years later and she has no choice but to admit to the truth.
Rico Montero had just had his engagement broken when he slept with Poppy, a night that still lives in his memory. Then, his ex-fiancee wanted him back and for the sake of the family he'd married her. When she died unexpectedly while pregnant (with another man's child, as he discovered she'd been having an affair) he thought that was the end of relationships, and children though his interfering mother kept trying to set him up in another marriage of convenience. When Rico's sister-in-law shares with him a photo of a child who looks remarkably like her own son and Rico discovers who the mother is, he realizes that Poppy has been hiding a secret from him. Determined to be a better parent than his own non affectionate parents, he shows up at Poppy's home where she lives with her aging grandmother to claim his daughter. He wants Poppy to marry him and for them to raise Lily together. He wants Lily to have all the advantages of being a Montero, something he can only provide if they move to Spain together, to which Poppy reluctantly agrees. Rico says that love isn't on the table but with the passion between them still as hot as ever, can Poppy convince him otherwise?
I really enjoyed this story! Though Rico was understandably upset that Poppy hadn't told him about Lily, he doesn't belabor the point and insists on them moving forward together. He wants to be a part of Lily's life, and the chemistry between him and Poppy is still very strong, making him believe that they can have a workable relationship. There are some passionate and sexy love scenes, and Rico's obvious effort to get to know Lily and his affection for her make Poppy believe he is capable of loving her – he just has to let himself believe it too.
It's a challenge for Poppy to adjust to life as an aristocrat's wife and initially she struggles with homesickness being thrust into unfamiliar social situations where she had once been a servant in the background. Plus Rico's ex in-laws are not happy at how it looks to have Rico claim a child who clearly was conceived while he was involved with their daughter. But eventually Poppy, with the help of her new sister-in-law Sorcha, (Rico's brother Cesar's wife – their story can be found in The Consequence He Must Claim), finds her place. Getting Rico to admit his true feelings for her doesn't come easily, and in fact it takes a real life or death scare to get him to tell her the truth. But they get their happy ending, with a sweet epilogue. The Spanish and Canadian settings and the characters, especially cute toddler Lily make this a romance well worth reading.
Book Info:

Publication: July 16, 2019 | Harlequin | Secret Heirs of Billionaires
"You will come to Spain. You will marry me…"
For sweet maid Poppy Harris, her one and only passionate experience was scorching and absolutely forbidden. She shouldn't have succumbed to Spanish aristocrat Rico Montero's tantalizing seduction, but his touch was all consuming…and had a nine-month consequence! Poppy believes they could never be anything more. Until Rico appears on her doorstep demanding his hidden daughter—and determined to make Poppy his wife!