In The Firefighter's Perfect Plan (Fire and Sparks #2) by Sonya Weiss, when Josie Moore tells a llie to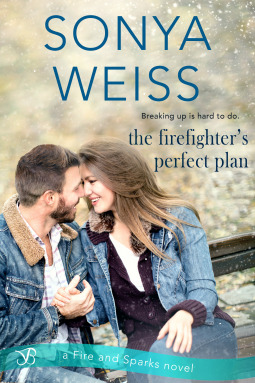 her mother she knows there's no way she can take it back. However, it's not going to be easy to convince Lincoln Bradford to go along with her lie, especially when he's not interested in a relationship. Yet, once Lincoln agrees to her plan, she finds herself doing the one thing she shouldn't be – falling in love with her best friend's brother. Will Josie be able to convince Lincoln that happy ever after isn't a curse, or will she end up getting hurt because he's not interested in a relationship?
"You're not going to be happy with me once you hear what I have to say."
He narrowed his eyes and crossed his arms. "Why? What'd you do?"
"I kind of told a lie…and it involves you."
Dismay spread across his face. "And?"
She darted her gaze away, understanding the suspicion in his voice. "I need you to be my boyfriend. My breakup boyfriend, actually."
Ms. Weiss always pens such wonderful reads that make me laugh or smile a lot, and this story was absolutely brilliant from the beginning, as Josie has the best job. Filming a bunch of firefighters is fun and I loved the moment where she comes face-to-face for the first time because she's had a crush on Lincoln for years and what she's asked to do to him in the first chapter had me wondering whether Josie could handle having her hands on Lincoln and whether Lincoln can handle having Josie's hands on him. Will Josie get a reaction out of Lincoln?
Both the main characters were fantastic, especially due to their back stories and their growing relationship that had me really enjoying these two together. Will they be able to fool everyone into thinking they're a real couple? Will the heroine's mother ever see her for the special woman she is? Certainly, Lincoln knows how special Josie is, which is proven by what he says to those that make her feel like she's not good enough. Furthermore, the heroine is strong, brave and I liked that she was finally doing what she wanted to do instead of what her parents want for her in a career. I also liked how determined Josie was to win over the hero, even though he's given up on relationships after what happened between him and his ex. While the hero, he's lucky he's got such a great family that want to see him happy and I loved how determined they were to matchmake. I also liked how determined the hero was to resist the heroine, even though it's impossible when there's so much chemistry between them. Yet, I've got to say that I felt sorry for Lincoln too because he won't take a chance on a relationship because he's afraid he'll fail his partner.
=She couldn't stop herself from asking, "Then why are you so reluctant to be with —"
He put a finger against her lips. "Because you're my reckless point."
"I don't understand."
He moved his finger. "A reckless point is a line that I won't cross. Out of all the dangerous things I've ever done and will ever do, you are the biggest risk. One I can't take because the consequences of failure are too great."
Overall, Ms. Weiss has delivered a delightful sister's best friend read in this book where the romance was on the sweet side and the ending had me loving the hero's determination to win back the heroine after their relationship goes awry. However, it was the epilogue that wrapped this story up nicely and had me crying happy tears, as Lincoln's family are the best and I love what they do for the heroine to show her that she's family. I would recommend The Firefighter's Perfect Plan by Sonya Weiss, if you enjoy the sister's best friend trope, the friends to lovers trope, or books by authors Victoria James, Jennifer Shirk, Jody Holford and Rachel Harris.
Book Info:

Publication: March 12th, 2018 | Entangled Publishing | Fire and Sparks #2
Josie Moore is in big trouble. After a few too many glasses of wine and tired of her mother's constant disappointment, Josie tells what she thinks is a harmless lie—that she is sort of in a relationship with her childhood crush, firefighter Lincoln Bradford. The lie comes back to bite her when her mother moves back to town, and now Josie has to make the fantasy a reality.
Lincoln has a perfect plan to protect his heart—and rule number one is: don't fall in love. There's no such thing as happily ever after, especially when it comes to love. But he didn't factor in Josie, his sister's quirky, gorgeous best friend. He agrees to help her, with the understanding that they're definitely not going to be anything more.
But every time they try to break up, they only end up tangled deeper together. Lincoln's carefully laid plans are about to come crashing down…