In Diamonds and Dirt Roads (Billionaires in Blue Jeans #1) by Erin Nicholas, after their father dies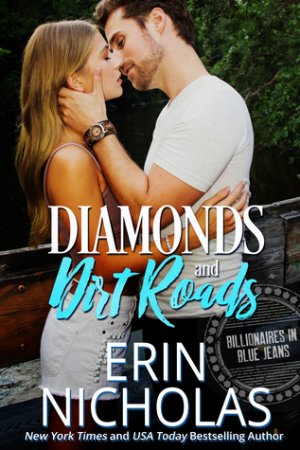 Cori Carmichael and her sisters find themselves having to move to Bliss, Kansas and following other stipulations of the man's will, if they're too receive their inheritance. For Cori, that includes doing the books for their dad's pie shop and not dating anyone for six months. However, there's something about Attorney Evan Stone that Cori finds difficult to stay away from. Will she be able to follow the rules, so she and her sisters get their inheritance; or will she sacrifice everything for the chance at happy ever after with Evan?
"You and I have a lot in common, Cori," Evan finally said.
"You're in charge of manicures and karaoke and chocolate Kahlua milkshakes when you and your sisters get together?" she asked.
He shrugged. "I prefer whiskey and both my sisters are horrible singers, but yeah, something like that."
Cori felt a jolt of…something. Something that felt like…like. For Evan Stone. "Are sex and dating the same thing?" she asked without thinking. Which was how she did most things.=
Evan's eyes widened, but he didn't react otherwise. "I assume we're talking about the no-dating provision in the trust?"
I am a huge fan of Ms. Nicholas's books and have been reading them ever since she released her first one, and I've got to say that this first book of her Billionaires in Blue Jeans series is one of the best starts to a series for her. Really, there are so many reasons that I enjoyed this book including the fact that the Carmichael sisters are triplets but are nothing alike, which makes things very interesting; the main characters had me loving the powerful chemistry between them that eventually spilled over onto the pages in steamy sex scenes that did justice to this couple's delightful chemistry; and the dialogue was a wonderful combination of intense moments and playful banter that had me liking the family dynamics in the way the sisters balance each other to create perfect harmony. Although, in saying that, there are times when someone needs to be a mediator for them to make things that way.
The way this story started with the prologue had me smiling because the sisters are so different, and with the stipulations their father has put in place in his will in order to get their inheritance, they're going to need to spend plenty of time together. Will they be able to handle spending so much time together? Will they succeed in following the stipulations in order to get their inheritance? Furthermore, I really liked the love-triangle between Ava, Cori and Evan, even though it doesn't seem like that much of a love-triangle in the way Cori is always coming to Ava's rescue. I also liked the heroine's love for life and that she lived like every day was important. Really, she's resilient, has brilliant ideas and I liked how she helped her sisters navigate their new life in Bliss in the way she encourages Ava not to give up with what she's been tasked to do and is determined to help Brynn with her stipulations when she's ready. Yet, what I liked most of all about the heroine was her friendly personality and how she won the people of Bliss over.
"Hot girls and hot coffee?" he asked. "They're never going to leave."
"Well, maybe we have our new marketing plan," Cori said. "Like Hooters only with pie and coffee."
"I'm in," Walter told her.
"You'll be rich," Hank agreed.
Evan couldn't help but laugh at the irony of that statement.
While the hero, he and Cori are so alike and I could understand why he has such trouble staying away from her when he's supposed to be dating Ava. I also liked how loyal the hero was and that he would do anything for a friend, which is proven by what he's willing to do to make certain Cori and her sisters give Bliss a chance and follow the stipulations of the will. I also liked the close friendship Evan shared with his two best friends – Parker and Noah – and that they're all determined to make sure the three sisters succeed because they don't want to have to follow the stipulations of the will set for the three of them.
Overall, Ms. Nicholas has delivered a spellbinding read in this book where emotions run high, as the sisters do their best to make things work; the secondary characters bring that little extra something special to the story and have me looking forward to more of this series; and the ending had me loving the lengths the hero was willing to go to make Cori know that she's the woman he wants and that nothing will keep them apart, especially not the stipulations of the will. I would recommend Diamond and Dirt Roads by Erin Nicholas, if you enjoy small town romances, the fake relationship trope or books by authors Mari Carr, Samantha Chase, Kimberly Kincaid and Catherine Bybee.
Book Info:

Publication: January 26th, 2018 | Self-Published | Billionaires in Blue Jeans #1
Attorney Evan Stone knows every crazy stipulation in billionaire Rudy Carmichael's will. After all, he wrote it. And he's determined to make sure each one is fully met by Rudy's triplet daughters. Even if that means dating the workaholic CEO, Ava. Or pretending to at least. And even if it means resisting the so-right-for-him-she's-totally-wrong party girl, Cori.
Cori's only got three things on her to do list from her dad:
• Move to Bliss, Kansas.
• Run his pie shop with her sisters for a year.
• No dating. For six months.
But stepping in for her sister when it's clear that Ava and Evan aren't fooling anyone with their "romance" isn't really dating. And falling for her sister's pretend boyfriend while pretending to be her sister…well, that's ridiculous. No matter how real things feel whenever she and Evan are together.