In The First Move by Jennifer Lohmann, Renia Milek is an accomplished photographer with her own studio in Chicago. She has spent years chastising herself for mistakes she made as a teenager and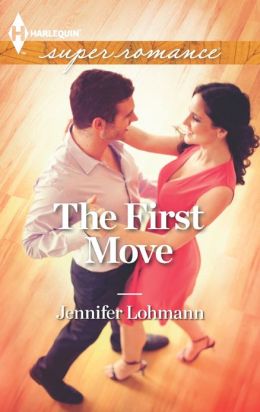 has kept a wall built up to push most everyone away. As a result, she hasn't had a lasting relationship with a man and tends to run as soon as she feels any emotional connection being made. While she's photographing a wedding she meets a charming man who claims to have known her in high school. She's afraid he knows her shameful secret so she declines his advances. But when she runs into him again with his daughter, she realizes what a wonderful father and great guy he is. He happens to show up at her studio to ask her on a date the day she gets a memorable phone call and he helps her through the crisis. On their first date when he teaches her to salsa dance she feels free and relaxed for the first time in years with a man. They have both been hurt in the past and have barriers to overcome, but they hope with the strong bond they've created, they just may be able to face their issues together.
"Whatever baggage Rey came with, and he was pretty certain she came with an airplane full, he wanted to be a part of her life, issues and all, just so she'd smile at him like that again."
Miles Brislenn is shocked with he spots Renia at his ex-wife's wedding. She was his first crush, although she never knew, and he has never forgotten her beautiful face. He is determined to get her to agree to a date with him, even if she doesn't remember him from school. She is in the midst of a family crisis when he arrives at her studio and he decides to help the emotionally fragile woman by taking her mind off the problem for at least one night. Their date is better than he could ever have dreamed but she pushes him away as he drops her off at her apartment. He gives her space to make her decision on whether to continue their fledgling relationship while still supporting her through her situation. Miles becomes more aware of her troubled past and the devastation she and her family has been through and is struck by how strong a woman Rey has become. He knows he wants to spend the rest of his life with her but the problem is how to convince her that he is completely honest in his intent and won't let her down.
This is a complex, tender and thought provoking romance. Author Jennifer Lohmann has written about some serious issues that would normally be very heavy. However she has lightened it by adding a growing romance where they characters are brutally honest yet charming at the same time. I couldn't help but fall in love with Miles…he is the perfect man for Rey, with his devotion and confidence in her. My heart goes out as well to Rey with the devastating choices she had to make so young and how she's had to deal with the consequences for so many years before coming to terms with them. I would recommend this book if you are looking for a romance with not only a lot of love, but a lot of depth as well.
Book Info
Publication Date: April 2, 2013 | Series: Harlequin Superromance (Book 1844)
An unlikely encounter…but he'll take it!
It seems like fate…or something! When Miles Brislenn spies the girl he had a crush on in high school—at his ex-wife's wedding, no less—he can't let the opportunity pass. He might not have had the courage to talk to Renia Milek back then, but he definitely does now. And that's not the only thing that's changed. Gone is the rebel Renia used to be. In her place is a beautiful woman who's reserved, cautious…and holding on to secrets.
For Miles, this second chance with Renia is too important to let her past stand in their way. He'll do whatever is necessary to help her accept her choices and move on—even if that means a salsa lesson or two! Because now that he's made the first move, he wants the second to be hers.