In Enlisted by Love by Jenny Jacobs , Greta Ferguson is just looking to keeping control of her life. As an interior designer she is used to making the necessary decisions. But when she meets ex-Army officer Ian Blake, she knows that she is in trouble. He is her weakness incarnate, a sexy man in uniform, and she cannot risk herself again. She's already been down that road once and she won't take that risk ever again.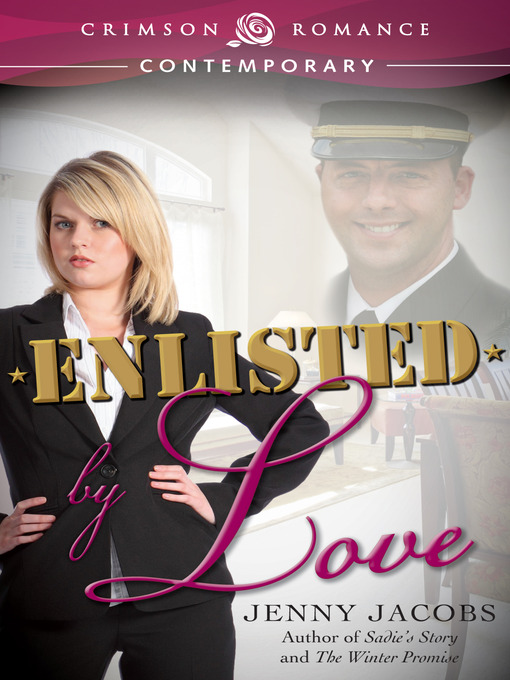 Ian is instantly attracted to Greta and can see that she is attracted to him as well, but he is surprised when she immediately decides to turn down the job and recommends that he looks into hiring another interior designer. He won't go down easy though, he was recommended by his friend Michael and since Michael's fiancé is Greta's sister and partner, Greta will find herself once again with the job of decorating his house.
While Ian tries to get closer to Greta, she finds each and every possible excuse to stay far away from him. She won't do the interview with him, and she will not answer his calls, that all falls to her sister to take care of. But his eclectic collection that he wants to add to his house decoration will bring her out of hiding each and every time, even if it's only to argue with him and tell him very succinctly that she will not allow those items into the house.
Ian will have to work very hard to win Greta over, but after realizing that he is falling for her, he will not stop until he can convince her that he is someone that she can trust and that he will never hurt her. But first he must convince her to give them a chance.
If you want a sweet and fun romance to read, with a stubborn and hardheaded woman and determined, strong and sweet man, then you will like Enlisted by Love by Jenny Jacobs.
Book Info
Publisher: Crimson Romance (April 1, 2013)
When ex-Army officer Matthew Blake starts a new career, he comes up against the most challenging obstacle to his happiness he's ever encountered: Greta Ferguson, the interior designer who's supposed to be making his life easier. He's used to giving orders and having them obeyed; she's a determined businesswoman who's not used to be challenged. Sparks fly—sparks Greta is determined to squelch, not caring to repeat the mistakes of her past. But with a little help from a little sister, they both learn how to give up control to find love.
Sensuality Level: Behind Closed Doors