The Footman and I by Valerie Bowman description sounded interesting, but I was wondering if the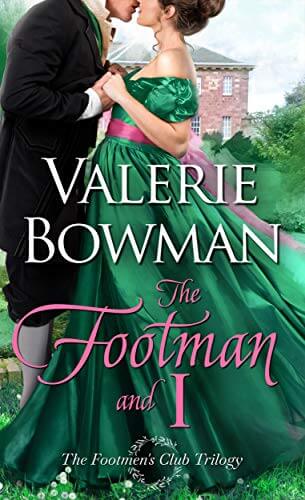 author would be able to pull it off. So many times, books with the storyline of bets and finding love are monotonous but the author added an interesting twist by having the hero disguise himself as a servant and it worked! The book was easy to read and the scenes transitioned smoothly. I was hooked into the story at the beginning and couldn't put the book down. It's the perfect book for a quiet summer day with its humor and charming characters.
Lucas Drake, the Earl of Kendall was ready to find a wife but was hesitant of being hurt and fooled again by a debutante's false character. Drunk one night while out with his friends, they make a bet that they would pose as servants at his friend's house party without being exposed. Lucas thought it was a great idea, he could watch how the debutantes treated their servants and discover their real character. Then he would court the woman he chose while avoiding the fortune hunters the following Season. Their plan sounded good, but he never expected to fall for someone right away or the guilt he had for deceiving her.
Frances Wharton was more interested in politics than finding a husband. Her mother keeps pushing Sir Reginald towards her hoping for a match, but Frances found him to be too boring and full of himself. When they arrived at the house party Frances was able to avoid Sir Reginald with the help of Lucas who was posing as a footman. Her mother forbids her to discuss the Employment Bill with any gentlemen while they were at the house party, so her discussing it with a footman didn't break her promise! She met Lucas one morning in the library and after debating the issues for the poor and her dislike of the bill they continued to meet every morning.
Lucas and Frances were so easy to fall in love with. Frances was sharp-witted, opinionated, and intelligent which made her different from the other debutantes and just what Lucas wanted. Her witty comments had me laughing and added to the enjoyment of the book. Lucas was sincere and wanted to find a kind, loyal wife. His intentions were good, but he entangled himself in lies and was scared to lose Frances if he revealed the truth to her. The side characters added additional layers to the book because each one had a secret reason to disguise themselves as servants at the house party. This book starts the series with a bang, and I can't wait to read Bell and Worth's stories.
Book Info:

Publication: June 30th 2020 | June Third Enterprises | The Footmen's Club #1
Let the games begin…
Every fortune-hunting female in London is after the newly titled Earl of Kendall, but he's intent on finding a wife whose heart is true. So, while drunkenly jesting with his friends in a pub one night, he has an idea—what if the ladies of the ton didn't know he was a wealthy earl? All he has to do is pose as a servant at his friend's summer country house party and make sure the guest list is full of beautiful, eligible debutantes. What could possibly go wrong?
May the best footman win.
Miss Frances Wharton is far more interested in fighting for the rights of the poor than in marriage, but her mother insists she attend a summer house party—and find herself a husband. Frances would rather wed a goat than the pompous man her mother has in mind, so in order to dissuade the would-be suitor, she vows to behave like a shrew. The only person she can be herself with is the kind, handsome footman she runs into at every turn. Their connection is undeniable, and the divide between them is no match for the passion they feel. But what will happen when Frances learns that the footman she adores is actually the earl she despises? In a game where everything is false, can they convince each other that their love is true?