In The Girls by Emma Cline, Remembering the past has always been bittersweet for Evie Boyd.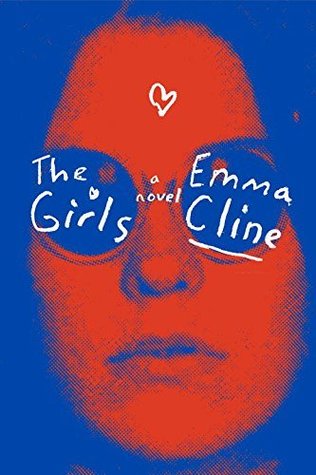 Especially when she thinks about what happened in California in 1969 when she was fourteen. That was the year that she befriended a group of girls who were on the outskirts of society, who believed in free love and opening themselves up to the universe. Evie can remember seeing Suzanne for the first time in town and how excited she was when she was taken to meet their leader Russell at the ranch. Little did she know that their lives would all change drastically within the next few months.
'We were, Russell told us, starting a new kind of society. Free from racism, free from exclusion, free from hierarchy. We were in service of a deeper love.'
Life as part of the group was a wild experience for Evie. She got to spend time with Suzanne, whom she looked up to as she was older and more sure of herself. Plus she believed in Russell's views on society and frivolous possessions. Evie didn't feel bad about lying to her parents about her whereabouts or taking the occasional bit of money to help feed those on the ranch. But as she became more immersed in their culture, she found herself wondering if she were capable of doing things, harmful things, in the name of their cause. Before that summer was out, Evie would find out for sure what she would or would not be willing to do.
'Suzanne and the others would always exist for me; I believed that they would never die. That they would hover forever in the background of ordinary life, circling the highways and edging the parks. Moved by a force that would never cease or slow.'
Emma Cline's debut novel The Girls was a rather intense story loosely based on Charles Manson's cult in the late 1960s. Specifically, it was about the numerous girls who where an integral part of the group and who were not always treated with care or respect.
I will caution readers right away that this book dealt with some topics that may be too difficult for some. There were of course numerous references and scenes about alcohol and drug use, where it was set in the 60s. The hedonistic manner in which the characters acted, believing in free love, stealing what they needed, and not seeing anything wrong with girls in their very early teens being used sexually by much, much older men was also tough to get past. But the murders that took place were the mostly grisly passages to get through. Evie was rather matter of fact in her recollection of the event and the details were gory to say the least.
The storytelling itself was compelling and the way this book was plotted out, bouncing back and forth from present day to the late 60s, worked very well. I liked that it wasn't really clear until the very end how it came to be that Evie was not in jail like so many other members of the group and how she fit into everything that happened. Cline was able to string the details along and make it seem like it was just the evolution of how Evie remembered everything. I did think that the writing was a bit stilted at first and didn't flow like I'm used to reading from a lot of authors, so it took a couple of chapters before I grew comfortable with it.
Evie was such a difficult character for me to fully embrace. It's not that she was a bad person. Well, not completely. She was selfish in a way that many teenagers are and I think she was searching for acceptance, wanting a personal connection with someone. She became a wee bit obsessed with Suzanne, one of the more prominent girls in the group. I thought that was interesting–that even though Evie believed in what Russell was spouting, it was Suzanne's attention and love that she most wanted to gain. The dynamic between them and with the rest of the girls in the group was definitely intriguing. It's not something I had given any thought to previously, to be honest, so this was an eye opening look into that type of setting.
The Girls was a powerful tale filled with the turmoil of an adolescent growing up too quickly, showing how she and the girls she befriended were manipulated and used by a charismatic man. Although it may not be an easy read due to some of the graphic content, this was still a very solid, interesting offering from Emma Cline.
Book Info:

Publication: Published June 14th 2016 | Random House |
Girls—their vulnerability, strength, and passion to belong—are at the heart of this stunning first novel for readers of Jeffrey Eugenides' The Virgin Suicides and Jennifer Egan's A Visit from the Goon Squad.
Northern California, during the violent end of the 1960s. At the start of summer, a lonely and thoughtful teenager, Evie Boyd, sees a group of girls in the park, and is immediately caught by their freedom, their careless dress, their dangerous aura of abandon. Soon, Evie is in thrall to Suzanne, a mesmerizing older girl, and is drawn into the circle of a soon-to-be infamous cult and the man who is its charismatic leader. Hidden in the hills, their sprawling ranch is eerie and run down, but to Evie, it is exotic, thrilling, charged—a place where she feels desperate to be accepted. As she spends more time away from her mother and the rhythms of her daily life, and as her obsession with Suzanne intensifies, Evie does not realize she is coming closer and closer to unthinkable violence, and to that moment in a girl's life when everything can go horribly wrong.
Emma Cline's remarkable debut novel is gorgeously written and spellbinding, with razor-sharp precision and startling psychological insight. The Girls is a brilliant work of fiction—and an indelible portrait of girls, and of the women they become.