In The Giving Heart (Summer Island #2) by Toni Blake , When Lila Sloan agreed to watch her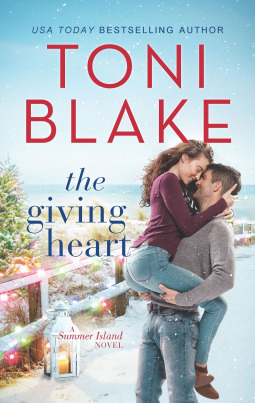 sister Meg's inn on Summer Island right around Christmas, all she could think of was getting the heck out of Chicago. Leaving behind the turmoil in her personal life seemed like a good idea, especially with things being so quiet on the island during the off-season. But right off the bat Lila is greeted with a challenge–in the form of gorgeous Beck Grainger, a real estate developer who is going to cut down trees at the edge of Meg's property. Not wanting to do anything to hurt her relationship with her sister, Lila dukes it out verbally with Beck. And the more they bicker, the more she has to admit she truly likes him. Aside from the whole tree thing. Lila's just not sure she's ready for her heart to get involved when it's clear that things are heading in that direction.
"Will you please just shut up and kiss me before I change my mind and kick you out into the snow again."
"Okay–you convinced me. Get ready for some serious kissing, girl."
"I'm ready," she promised.
And oh–he wasn't kidding.
Beck is looking for a Christmas miracle. First, he needs to get it through to lovely, feisty Lila that the trees behind the inn will be coming down, no matter how cute–er, how angry she is. Plans are already approved and in motion for the project. Second, Beck somehow becomes the favorite new buddy of his neighbors' five-year-old grandson, Cade. He's determined to make sure that as Christmas draws closer and with no way off the island thanks to a blizzard, that Cade has a holiday to remember. Third, Beck is torn between his newfound intense desire for Lila while still feeling remnants of his months-long attraction to islander Suzanne. He's pretty sure he knows where his heart is leading him. But is it safe to trust his feelings? Or should he go with the obvious choice?
'The idea of seeing her again made him feel like a teenager hoping to run into the girl he had a crush on. He'd just have to look out for flying ornaments.'
Christmas stories don't get much more heartfelt or complicated than in The Giving Heart by Toni Blake. Enemies-to-lovers goodness with a bit of a love triangle–and of course the true spirit of the season–made Summer Island the perfect place to be for Christmas this year.
'Aw crap, he was kind to children, too? What was next? Did he volunteer at homeless shelters? Give food to the poor? He kept making it harder and harder to dislike him.'
Book two in Toni Blake's Summer Island series had all the entertaining antics and emotional depth that book one did–and it even carried another love triangle theme. There was no cheating involved, though. It was just a messy situation for Lila, Beck, and Suzanne to work through. And while I had some misgivings about Lila's penchant for negative self-talk and Suzanne dragging her feet for so long about Beck's attraction to her, overall this was a sweet novel that had an easy flow to the prose and a rock solid plot.
Lila had just been through a traumatic event in her life (unbeknownst to her family) so having Beck trying to take control by tearing down the beautiful trees behind the Inn pushed her over the edge. She was a lot more contemplative than she was the free-spirited woman that we heard of in book one, her sister Meg's story. I liked that Lila was trying to take back her life and make up for some of the things she'd run away from in the past. (I love a redemption story!) Standing up for her family's Inn was a great start. It was her romantic feelings for Beck that really confused Lila and led to some serious soul searching.
Beck was a pretty stand up hero. A Southern boy, he could flirt and charm with ease and was a successful businessman and a truly good guy. He was wrestling with his own personal issues from his past as the holidays closed in as well as his feelings towards Lila and Suzanne. I won't give away all the details but Beck had a tough decision to make and came to what I think was the best conclusion possible.
I thought it was absolutely heartwarming that Beck's saving grace was his neighbors' five-year-old grandson, Cade. Who, by the way, was *the* most adorable, precocious little boy ever! The whole community came together at the end to make sure Cade had a good Christmas, with Beck leading the charge. That part of the story alone will give you all the warm and fuzzies as it also makes your heart melt. *le sigh*
Between Beck and Lila's meet-cute that set things off in a quirky way, their fun bantering, and the joys and challenges of Christmas on an island, The Giving Heart was another charmer from Toni Blake.

Book Info:

Publication: Published October 29th 2019 | HQN Books | Summer Island #2
Spend a white Christmas on Summer Island, where the fires are warm and the romance is hotter
Lila Sloan is house-sitting for her sister, Meg, who owns an inn on Summer Island—it seemed like the perfect getaway. Now Lila wonders why she ever thought spending Christmas alone on an isolated island was a good idea. To make matters worse, local real estate developer Beck Grainger is trying to cut down the beautiful trees that line Meg's property. Lila can't let this happen; Meg will never forgive her.
Beck can understand Lila's anger—sort of. The trees are on the neighboring property, not Meg's, and the land was zoned for residential use months ago. His plans were no secret. He dislikes being at odds with his friend's sister, though, especially because Lila is appealing in every way: loyal, quick-witted and completely stunning.
Lila hates that she's so attracted to Beck, who seems like a genuinely good man, despite his tree-murdering tendencies. And their chemistry is off the charts. She just wishes he'd let this development go. As Summer Island counts down to a snowy Christmas, Lila and Beck will have to strike a compromise that seems impossible for them both—or risk losing the best thing either of them has ever had.