In The Glass Kitchen by Linda Francis Lee, Portia Cuthcart grew up in Willow Creek, Texas, with her sisters, Cordelia and Olivia, learning all about food from their beloved grandma. The Glass Kitchen restaurant has been handed down in their family for generations and once Portia had shown she had the family gift for food, she knew she would be next in line to run it. But when she falls in love, her senator fiance wants her to become the atypical politician's wife, so she leaves behind that part of her life to devote herself to her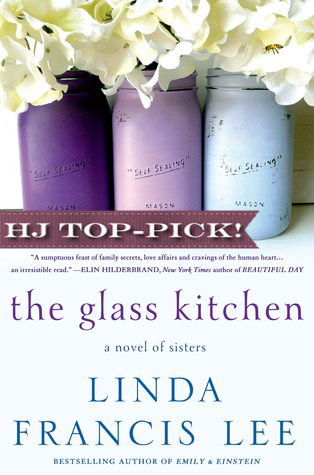 marriage.
'Standing in the dirt lot, The Glass Kitchen behind her, Portia promised herself she wouldn't cook again.'
Let's just say things don't work out as planned. One divorce and many lies from her husband later, Portia makes her way to NYC to rebuild her life in the apartment her great-aunt left her. Things become a bit complicated when she meets her upstairs neighbor, widower Gabriel Kane, and his two daughters. Their lives become entangled as Portia grows closer to the family and putting her gift for food into practice again. Romance flares between herself and Gabriel, but with her complex family history still butting in and Gabriel's own family dramatics, she wonders if it's smart to give in to temptation.
"God, you drive me insane," he said raggedly.
"Same page," she answered, her arms circling his neck as she leaned into him.
Twelve year old Ariel Kane's life changed forever the day her mother died. A year later, she's living in a different house, going to a new school, and dealing with her father trying to make amends for the chaos their lives have been in. Then Portia moves in downstairs and things start to look up. She has a knack for bringing Ariel's spirits up with her peculiar clothes and yummy baked goodies. Even her dad smiles once in a while now. But their family remains in crisis, threatening to break up the happiness that was just starting to seep into their days. Can Ariel figure out a way to stop things before someone gets hurt?
He skewered her with his eyes. "Groveling?"
"Yep, groveling, to Portia. And don't bother saying you don't grovel, Dad, because really, like I said, you've got to do whatever it takes. We need Portia…"
Linda Francis Lee's The Glass Kitchen is an outstanding women's fiction novel that really resonated with me. Anytime food, family, and romance are combined to tell the story, I'm there. Plus…look at that beautiful book cover! Simple and oh-so-welcoming.
I thought there was a wonderful cadence to the writing here, which made it easy to follow along with the scenes and especially the dialogue, with it's mix of serious and light. And the food references/analogies! They fit the story perfectly and, quite honestly, made me hungry. 😉 I found the characters were easily relatable, even Portia and her uncanny ability with food. Surprisingly, the character I was the most invested in by the end was Ariel, Gabriel's preteen daughter. She had been through a horribly traumatic event and was doing her best to deal with it. But she was a little too smart for her own good so she wouldn't open up to anyone as she didn't want to give away a secret that may further change her family forever.
Portia and her sisters, Cordelia and Olivia, were typical siblings in my opinion. They loved each other fiercely, but they had their moments when they fought and then made up. It was fun getting to know their personalities and see how it would influence situations, even with Gabriel once he entered the picture. And I thought the references to Gabriel being a beast, both in regard to his demeanor and his brooding looks, gave us a hint of Beauty and the Beast (one of my childhood favorites). Gabriel and Portia's romance was complicated, of course, thanks to his family issues and her living and job situation, but I loved them together as a couple. They had a spark together that was hard to keep contained no matter how hard they tried.
I think fans of superbly written women's fiction/chick lit will enjoy Portia, Gabriel, and the rest of the quirky crew in The Glass Kitchen. Very highly recommended.
Book Info:

Publication: June 17th 2014 by St. Martin's Press
With the glass kitchen, Linda Francis Lee has served up a novel that is about the courage it takes to follow your heart and be yourself. A true recipe for life.
Portia Cuthcart never intended to leave Texas. Her dream was to run the Glass Kitchen restaurant her grandmother built decades ago. But after a string of betrayals and the loss of her legacy, Portia is determined to start a new life with her sisters in Manhattan . . . and never cook again. But when she moves into a dilapidated brownstone on the Upper West Side, she meets twelve-year-old Ariel and her widowed father Gabriel, a man with his hands full trying to raise two daughters on his own. Soon, a promise made to her sisters forces Portia back into a world of magical food and swirling emotions, where she must confront everything she has been running from. What seems so simple on the surface is anything but when long-held secrets are revealed, rivalries exposed, and the promise of new love stirs to life like chocolate mixing with cream. The Glass Kitchen is a delicious novel, a tempestuous story of a woman washed up on the shores of Manhattan who discovers that a kitchen—like an island—can be a refuge, if only she has the courage to give in to the pull of love, the power of forgiveness, and accept the complications of what it means to be family.