The Good Daughter by Jane Porter takes us into Kit's life. Kit is one of 3 sisters and 1 brother from a close knit family. Kit has a lot going on in her life…she is single, will be 40 this year, would like nothing more than to have a family of her own, and her mother is terminally sick with cancer. Kit has always been the nice sibling…always seeing and thinking the best of people, despite evidence to the contrary sometimes.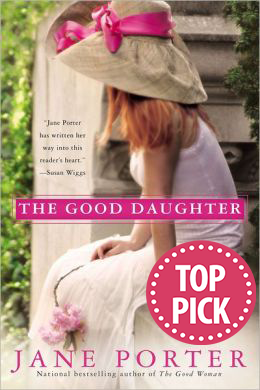 As The Good Daughter starts, we become closer to Kit, her thoughts, dreams, and feelings. She is a teacher and a caretaker, always supportive of others, and she is happy doing these things. Her mother has only months to live and Kit spends many of her weekends at her parents' place. But something is missing in her life and even with everything going on in her life, Kit feels the emptiness. The emptiness of a house she loves but would love more to share with someone, the loneliness of not having a special someone to share her life with. Kit goes on a girls weekend away with one of her good friends, some R & R she really needs. While there though, Kit meets Jude. A big, bad biker boy who in her head can be nothing but bad news, but who does something to her insides and she is unwillingly drawn to anyway. As nice as Kit is though, she makes a snap judgement about Jude, decides he is not safe, her family would not approve, and declines to go out with him. Instead she goes out with someone who looks like he fits the criteria, but looks are deceiving! She thinks of Jude, but because she feels her family would not approve of him she pushes any thoughts of Jude away.
As The Good Daughter draws us in, we are introduced to Deliah…a 15 year old girl who is also the step daughter of the bad date, and now a new student in Kit's classroom. Deliah's tough, I don't care attitude hides a fragile interior. In her own secret way, Deliah is also a caretaker. A keeper of family secrets, trying to keep her mother safe. Despite all the turmoil already going on in Kit's life, she is drawn into Deliah's. Kit is concerned about Deliah, but is still too trusting of others. Through Deliah, Kit meets up with Jude again, who happens to be Deliah's neighbour.
Jude, despite his feelings that he is not relationship material and is no good for Kit, finds himself caring more and more for Kit. He sees what a good person she is. Kit starts to see Jude for what he really is, learns the truth about him and that she jumped to a huge, inaccurate conclusion. Kit and Jude initially see more of each other over concern for Deliah. Kit tries to keep up a tough front and deny her attraction for Jude, but that is not meant to be. They see more and more of each other and a relationship starts to form, despite Jude's initial insistance that he was not good for a relationship, and Kit's that maybe she doesn't want a relationship, she just needs to be with someone.
Kit's Mom is getting sicker, and Deliah's family life is becoming more dangerous. Kit is at times overwhelmed with both…worried and scared. She also has memories from childhood that she's hidden away deep inside…
Despite all of Jude's intentions and reasons not to let this go anywhere, he is there for Kit, for whatever she might need and to support her. Kit needs to decide if she is going to follow her own heart and what makes her happy, or is she going to continue to try to keep others happy (even though they don't know all the facts) and risk losing her chance of being with 'the one'.
The Good Daughter by Jane Porter was one of the best books I've read in a long time! I became trapped in those pages and couldn't put The Good Daughter down!
I must admit that I felt exasperated with Kit at times. She was way too trusting and sometimes I felt like she had blinders. For a 40 year old woman, she was way too concerned with what other people thought and keeping everyone but herself happy. Having said that though, I did really like Kit, and she deserves happiness and love in her life! I found myself really hoping Kit could find what was important to her life, not her parents', siblings, or friends. I loved Jude from the get go!
Jane deals with some real life issues in The Good Daugher…there was laughter, romance, abuse, tragedy, and love. The Good Daughter is a very well written, descriptive book that will make you want to stay up all night reading … and wanting Jude for yourself! There is something of everything in this book for anyone looking for a romance with a strong story behind it. The Good Daughter is about so much more than I could possibly fit in this review. The Good Daughter is the second book in this series, but it can easily be read alone. I didn't read the first book, but am eagerly awaiting the next book in this series! HJ Top Pick
Book Info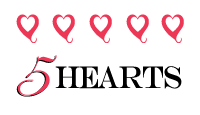 Publisher:
 Berkley Trade Release date: February 5, 2013 | Series: A Brennan Sisters Novel
Love was given to all, except herself . . .
Kit Brennan has always been the most grounded of her sisters. A Catholic school English teacher for seventeen years and a constant giver, her decisions have been sound—just not very satisfying. Her fortieth birthday is right around the corner, causing Kit to consider some wilder notions, like skipping right past the love and marriage to raising a child all by herself . . .
A girls' weekend away is just the reprieve Kit needs from school, Mr. Wrongs, and life-changing decisions. It's there that she meets a man who's dangerous; a man who challenges who she thought she was, or rathershould be. Kit wants to indulge herself this once, but with one of her students in crisis and the weight of her family's burdens weighing heavy on her heart, Kit isn't sure if now is the time to let her own desires take flight . . .