In Too Hot to Handle by Victoria Dahl, Merry Kade is searching for a place and a career to call her own. She's living with her BFF Grace in Jackson, Wyoming, and has started working for the Providence Historical Trust.
"Merry took a deep breath, inhaling air that was cleaner than any she'd ever breathed before. This was a good place to make a life for herself. She couldn't fail here. She knew it."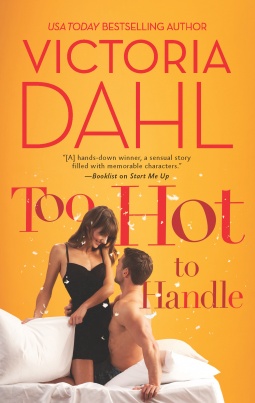 She is in awe of the beautiful ghost town and surrounding land and can't wait to begin the restoration process. She encounters a few setbacks with the members of the Trust in trying to free up funds for the process. They are embroiled in a lawsuit with the deceased landowners grandson. Merry decides to take matters in her own hands and hires her neighbor Shane on her own dime to work on one of the buildings. She has always been the geeky girl next door but somehow Shane pays attention to her as if he's interested in being more than just friends. The more involved they become, even after saying they'll keep it no strings attached, the more she finds herself falling for the ruggedly handsome guy.
"The cocktail she'd downed had combined with her natural awkwardness with disastrous results. She'd blurted out all the things she never should have said, and now he knew she was thinking them."
Shane Harcourt has had a lifetime of being let down by loved ones…specifically his father, brother and grandfather. He sued his grandfather's Trust to get what is rightfully his after refusing to bow to his demands years ago. When the cute next door neighbor asks him to help her fix up the saloon in Providence, he thinks it will be a chance to get some inside information and make sure the project never gets finished. She has no idea who he is and that he's at the center of the controversy. What he doesn't realize is how charming and full of life Merry is and he somehow feels drawn to her. He knows he's no good in relationships and doesn't ever picture falling in love and marrying or settling down. But Merry might just change his mind after all.
I have to say I really loved Victoria Dahl's writing style. It flowed across the page and was filled with laughter and honesty. I found myself chuckling numerous times throughout the story and may have had a tear in my eye when I finished reading the last page. Merry's character was a nice change of pace to read…she is hysterical and optimistic in light of the challenges she's faced in her life. And I can relate a little bit too well with her social awkwardness! Shane is a bit more jaded by his past but still has a good heart, which is why I think he's a good match for Merry. I would definitely recommend this if you're looking for romance with history, humor, steamy love scenes and a sigh-worthy ending.
Book Info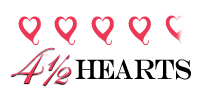 Publisher: Harlequin HQN (March 26, 2013)
This good girl's going bad….
Merry Kade has always been the good girl. The best friend. The one who patiently waits for the guy to notice her. Well, no more. Merry has just scored her dream job, and it's time for her life to change. As the new curator of a museum in Wyoming, she'll supervise a lot of restoration work. Luckily she's found the perfect contractor for the job.
Shane Harcourt can't believe that someone wants to turn a beat-up ghost town into a museum attraction. After all, the last thing he needs is the site of his dream ranch turning into a tourist trap. He'll work on the project, if only to hasten its failure…until the beautiful, quirky woman in charge starts to change his mind.
For the first time ever, Merry has a gorgeous stud hot on her heels. But can she trust this strong, silent man, even if he is a force of nature in bed? When Shane's ulterior motives come out, he'll need to prove to Merry that a love like theirs may be too hot to handle, but it's impossible to resist.