In The Gravedigger's Son (Charley Davidson #13.6) by Darynda Jones , Private investigator Amber Kowalski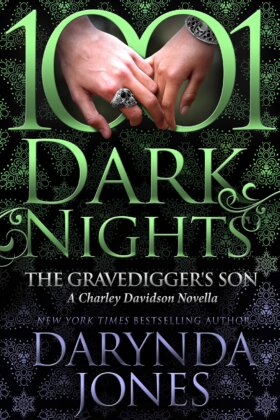 is tracking down a demon who killed a couple of locals in Madrid, New Mexico when she comes face to face with her former best friend/boyfriend, Quentin Rutherford. After about five years apart, there's a lot for them to discuss. Or argue about. But first, Amber needs to find a way to kill the demon without it killing her first. As much as she's still angry with Quentin, she won't let it harm him if she can help it. Although when she finds out he's now a demon hunter with several tricks up his sleeve, maybe her luck is about to change. And who knows…Amber and Quentin might just find a way to mend what's between them–if they make it through alive.
'Amber and Quentin had been best friends for years. And then they were more. She'd given her heart to him. For him to just leave like that…'
It was wonderful to be back in the Charley Davidson universe with The Gravedigger's Son, a 1001 Dark Nights novella where fan favorites Amber and Quentin finally got a chance to tell their story. And you won't believe how dangerous–and romantic!–it was.
'He didn't deserve her. He'd never deserved her. And yet, here she was. Showering him with a love he'd craved for so long that he'd forgotten what it felt like to be happy. To be content.'
I love everything I've read by Darynda Jones but there's something about the Charley Davidson series that resonates with me and I just can't get enough of it. So to find out Quentin and Amber were getting their own novella? I was over the moon. For those who haven't read the series, you can read this as a standalone and it will still be a thrilling, sexy story. But for those who *have* read the series…whew. Hold on, because it was a wild ride and to say Amber and Quentin have changed is putting it mildly.
This took place about five years or so after the couple parted ways when they were in college. Amber became a private investigator and clairvoyant (for lack of a better term) while Quentin was a demon hunter. Both of them had grown mentally and emotionally over the years and had some big changes in their lives to sort out. But when they found themselves in the same town, hunting the same demon, sparks flew between them again and Quentin and Amber really had no choice but to hash things out.
This novella made me remember how much I adored Quentin and Amber as a couple (and as individuals) during the Charley Davidson series. As much as I enjoyed reading about their connection when they were younger, it was leaps and bounds better seeing them as adults–with Amber and Quentin still sharing such a tender bond. And that's something that Darynda Jones excels at: creating a genuine connection between her characters, even in a paranormal setting. It's what keeps me coming back. Well, that and her perfect use of humor in each book.
QOTD: Have you read any 1001 Dark Nights novellas? If so, do you have a favorite?
Book Info:

Publication: Published May 11, 2021 | by 1001 Dark Nights Press | Charley Davidson #13.6
The job should have been easy.
Get in. Assess the situation. Get out. But for veteran tracker Quentin Rutherford, things get sticky when the girl he's loved since puberty shows up, conducting her own investigation into the strange occurrences of the small, New Mexico town. He knew it would be a risk coming back to the area, but he had no idea Amber Kowalski had become a bona fide PI, investigating things that go bump in the night. He shouldn't be surprised, however. She can see through the dead as clearly as he can. The real question is, can she see through him?
But is anything that's worth it ever easy?
To say that Amber is shocked to see her childhood crush would be the understatement of her fragile second life. One look at him tells her everything she needs to know. He's changed. So drastically she barely recognizes him. He is savage now, a hardened—in all the right places—demon hunter, and she is simply the awkward, lovestruck girl he left behind.
But she doesn't have time to dwell on the past. A supernatural entity has set up shop, and it's up to them to stop it before it kills again.
While thousands of questions burn inside her, she has to put her concern over him, over what he's become, aside for now. Because he's about to learn one, undeniable fact: she's changed, too.
**Every 1001 Dark Nights novella is a standalone story. For new readers, it's an introduction to an author's world. And for fans, it's a bonus book in the author's series. We hope you'll enjoy each one as much as we do.**