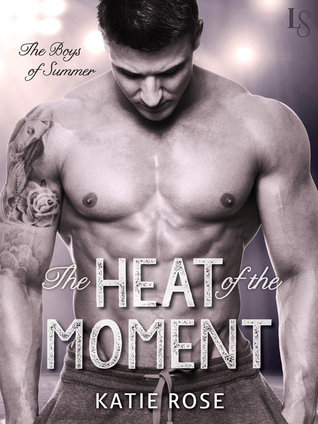 The Heat Of The Moment by Katie Rose: Gavin, who's on the disabled list due to a knee injury, is traded from the Dodgers to the New Jersey Sonics. It's there he meets Jessica, his physical therapist. Having a bad experience dating a baseball player in the past, Jessica doesn't want to date any player again, especially her new patient that she feels a connection with.
Poor Gavin. Not only does he have to deal with a potentially career-ending injury, but then he gets traded across the country to a team that no one considered to be a contender for the World Series, and his girlfriend dumps him. He feels like an outsider, unsure of where he stands with his new teammates because of his inability to play. I liked how Jake immediately took him under his wing and tried to make him feel like part of the team.
Jessica's initially weary of starting anything with Gavin, mainly because of her past relationship with another baseball player that left her heartbroken. She's a very caring person, wanting to help everyone that came into the office. She becomes determined to rehab Gavin and give him the best shot possible at returning to the game.
Gavin and Jessica had amazing chemistry from the get-go. One of the things I enjoyed was that they took time and progressed from therapist/patient to friends, and then to lovers. They took the time to get to know one another and were very patient with each other as they dealt with their own problems and misgivings.
==Even the good times with Zach had not been like this. With Gavin, she not only had a boyfriend, but a friend.==
I was disappointed, however, that Gavin didn't stand up to his father. The man clearly cared about his son's career more than his son. He was only interested in when Gavin could resume playing in order to get traded to a team with a better standing. Gavin had plenty of chances to confront his father, but he never took them.
I also thought there was no real resolution between Gavin and his teammate, Roger, who had a crush on Jessica. The two men had an altercation, and even Jessica confronted Roger. Suddenly things were ok between them all, with Roger seemingly accepting their relationship.
==Roger gave Jessica a longing glance, but then his eyes met Gavin's and he nodded, acknowledging that the best man had won.==
They didn't talk it out and none of them addressed the issue and the hostility between them. It just felt unrealistic.
This is the third book in the series, but it can be read as a stand alone. Teammates featured in the first two books make a large amount of appearances in this one, as do their significant others, but it's written so that you don't feel like you're missing anything. I haven't read the first two books, but after reading this one I'll definitely check them out.

Book Info:

 September 22, 2015 | Loveswept | The Boys of Summer #3
Physical therapist Jessica Hart has learned her lesson: Never date professional athletes. She's been down that road, and barely recovered after the relationship crashed and burned. Then Jessica meets Gavin King. An All-Star slugger with chiseled good looks, Gavin was traded to the Sonics because he hurt his knee sliding into second, and now his future is in her hands. Gavin's no bad boy—but he's tempting enough to make Jessica think twice about all her rules.
Gavin is trying to find a comfortable routine. If he wants his old life back, he must take it easy, stay out of the limelight, and keep his distance from gorgeous redheaded physical therapists. The thing is, Gavin isn't the kind of guy to sit on his ass and let other people pull his weight. And when he sees something he wants, he can't help but fight for it, even if it means risking everything, even if it only lasts a single moment: like one kiss from Jessica.