The Highlander and the Governess by Michelle Willingham is the first book in the new series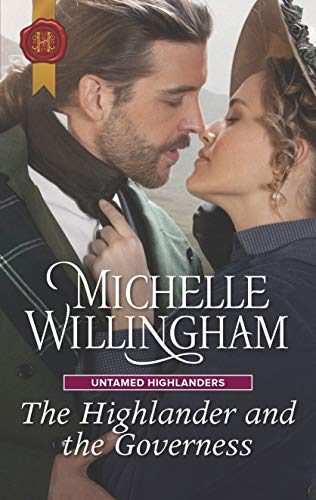 Untamed Highlanders. I have read a few books by this author and am always surprised by her talent. I wasn't sure what to expect with this book because the blurb isn't very detailed, but it was just enough to grab my attention. It was fast paced and well written. I adored the main characters, they were so sweet and perfect for each other.
Frances Goodson had been ruined during her Season and she was trying to leave it behind by going to Scotland for her first job as a governess. She was expecting to tutor a child, not a laird but she desperately needed the position. Lachlan McKinloch, Lord Locharr, was not pleased when he realized his mother had hired Frances to teach him etiquette before he goes to London to court Lady Regina, an heiress his family had chosen for him. His clan needed for him to marry an heiress in order to restore their fortunes, but he didn't think he needed a governess! He was ready to send Frances back to London, but after some convincing from Frances he allowed her to stay for a day so she could point out how she could help him.
Through mischievous actions (and help from the footman) she was able to convince him to allow her to stay longer. As the lessons continued, they started sorting through the estate ledgers trying to solve the mystery of how the estate was in such bad shape. Their attraction for one another grew even though they knew they had no future together. Once they got to London, Lachlan was torn between courting the woman he needed to marry to save his clan and keeping the woman he loved safe.
Can Lachlan have the woman he loves and save his clan? This was such a great book and it sets the next book up perfectly, which I can't wait to read.
Book Info:

Publication: October 1st 2019 | Harlequin Historical | Untamed Highlanders #1
A ruined lady turned governess
Can she tame the Highlander?
Part of Untamed Highlanders. When Frances Goodson is summoned to Scotland to give etiquette lessons, she's not expecting to tutor a handsome laird! The scandal of her past means going home is not an option, so she must help wild, scarred Lachlan MacKinloch win a wealthy London heiress. She's determined to fulfill her task and not get distracted by the passion she sees in the powerful laird's eyes…