The Hookup Handbook by Kendall Ryan: Case is the most requested escort and CEO of the company, so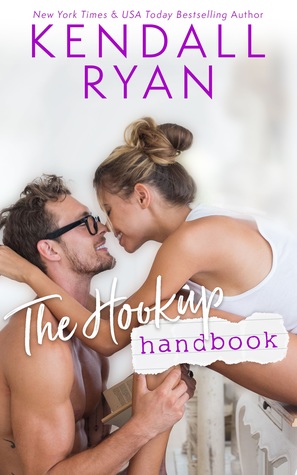 it's quite the problem that he has lost the ability to…perform on the job. He sort of fell into escorting and he's made it his mission to ensure that women can and do enjoy sex. He's sexy, charming, confident, and a loyal son. He takes care of his friends and employees, but not really taking care of himself.
Sienna is at a bit of a crossroads. She just graduated from college and she's not quite sure what she wants to do next. She's smart, savvy, organized, independent, and feisty. Sienna is also a talented dancer and still loves ballet. Living with her brother is okay for now, but she wants more.
Case is certainly feeling the pressure between not being able to take on any clients while still managing the business and experiencing writer's block. He has just one month to turn in his book and he's got nothing. The last thing he wants is someone else underfoot, but he also can't say no when his best friend suggests that his younger sister, Sienna, should help out.
A slight grin tilts his full lips. "Tell me everything that's on your mind. All at once."
"I'm not sleeping with you." Oh my God. Did I just stay that? Out loud? Shit!
"Never asked you to."
Case and Sienna don't get off on quite the right foot. He's slow to give her work and she's apprehensive about working for an escort agency. It doesn't help that they distract each other with a chemistry they struggle to ignore. Sienna is off-limits, but she quickly captures his attention and he wants to know more about her. They banter and challenge each other before and after they cross that line.
There's barely half a ring before he picks up. "Kind of late for you to be calling me, Ms. Johnson. Did you forget how sick I am?"
"You're the one who texted me." I'm moderately annoyed by his sass, but I don't have the time to be annoyed right now. I need details, stat. "Care to explain what that text is supposed to mean?"
The Hookup Handbook is a sexy, forbidden, rom com. Kendall Ryan provided banter, tension, conflict, and heat in an entertaining and engaging story. Ms. Ryan continued to develop a great cast of characters in the Escorts, Inc. world including their families. Fans of Rachel Van Dyken and Meghan Quinn will enjoy The Hookup Handbook.
Book Info:

Publication: Published March 19th 2019 | Pub: Kendall Ryan | Escorts, Inc. #2
My love wand is on a strike.
As bad as that blows, pun unintended, it's ten times worse for me. I'm a male escort, but not just any escort, I'm the escort. The one with a mile-long waiting list and a pristine reputation that's very well-deserved.
Only now, I'm on hiatus. Because after years of pleasing women all over the city, my man missile decides to get finicky. And the only woman he wants? Someone I can never have—my best friend's younger sister, the nerdy and awkwardly adorable Sienna.
She's working at the agency this summer, keeping me organized, handling paperwork, and most importantly, keeping me on track to finish writing my book about sex and intimacy, which is due to my publisher in thirty days.
She thinks I hate her, that I don't want her here. The truth is much more twisted. I get hard every time she walks into my office. Her wide blue eyes and pouty mouth drive me wild with desire, and if she stays, I'm not sure how much longer I can stay away from her.
Little Miss Overachiever says she's here to help? Fine. I'm going to put her nerdy, curvy tush to work.