The Introvert's Guide to Speed Dating by Emma Hart: The last thing London Stuart expected when she agreed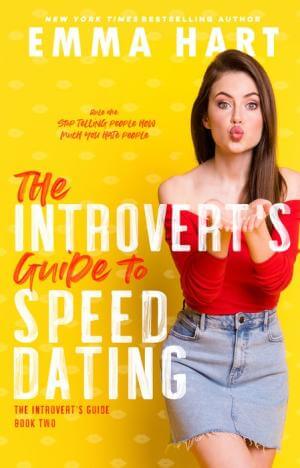 to attend the singles speed dating event that her cousin was hosting was to come face to face with her son's incredibly sexy British soccer coach and for them to actually hit it off!
Soon London finds herself wondering if dating again is a good idea, especially seeing as the guy she is interested in also happens to play such a big role in her sons life? As it would happen fate decides to give London the much needed push right into the smooth talking arms of Oliver Hayes, when her boss tasks her with doing a full write up on the new sports centre where Oliver coaches.
For the first time in a long time Oliver finally feels like he has a reason to want to stay in the States and that's all thanks to the cute London. There is just something about the cute mother that Oliver can't seem to help being drawn to and it doesn't hurt that her son is a complete natural behind the nets. The only question is will Oliver be able to convince London that he is here to stay and that he isn't going to be like her ex and leave both London and her son high and dry?
Hart has been killing it with the Introverts Guide series, it has been one laugh fest after the other! I did feel that The Introvert's Guide To Speed Dating was a tiny bit different to the others in the series in that this novel felt a bit more serious, however Harts signature humour could still be found sprinkled throughout the book.
I absolutely loved the instant chemistry between London and Olivier and that they kind of fell into such a natural relationship. These two came into each other's lives at just the right moment and their entire relationship progressed in a very naturally manner. However it was Leo that truly stole the show, this little fellow was just to adorable! I loved all the little bits that he added to the story. I loved the way that Oliver connected with Leo and the bond that they created while training and playing Mario.
I do wish that we got a bit more action from the seniors centre and all of their crazy animals. Overall The Introvert's Guide To Speed Dating was the perfect one day read. As with all of her books Hart once again delivered a laugh out loud feel good romance!

Book Info:

Publication: July 6th 2021 | Emma Hart | The Introvert's Guide #2
Speed dating: the act in which you have two minutes to figure out how much of a jerk someone is. And pretend like you don't have the hots for your son's soccer coach.
After four years living the single life, it's decided that I, London Stuart, am back on the market.
I'm not even mad when my cousins and best friends put my name down for the speed dating sessions. In fact, I'm actually a little excited about it.
Until one of my dates turns out to be my six-year-old son's irresistibly sexy soccer coach. His irresistibly sexy British soccer coach.
Oliver Hayes is too good to be true—he's tall, dark, handsome, hilarious, and he genuinely loves kids. Especially mine. But he's not sure if he's even staying in the country, and I'm not sure I can handle giving him my heart if he's only going to leave.
So why is he over for dinner almost every night? Why is he giving Leo private goalie sessions in the backyard? Why is he sending flowers to my desk at the newspaper?
And why, oh why, can't I stop kissing him?