In The Invitation by Vi Keeland, Crashing fancy weddings isn't something Stella Bardot is in the habit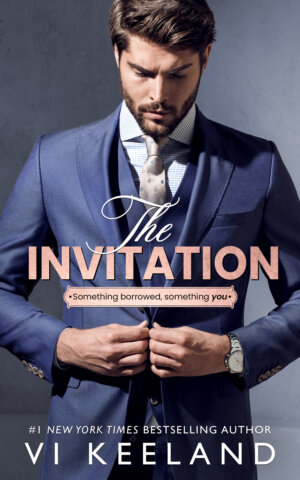 of doing. Ever. But with her string of bad luck over the past year–breaking up with her no-good boyfriend, her business plans not panning out, and her roommate bailing on her–she figures, what does she have to lose? When Stella and her best friend Fisher use the invitation she received by accident, little did she know she'd meet groomsman Hudson Rothschild and it would alter her life completely. Handsome, successful, and utterly charming, Hudson is everything she could want in a man. Well, except for the fact that he's a tad angry about her not being invited to the wedding.
"Oh, I'm yours now, am I?"
When we arrived at my door, Hudson kissed me gently on the lips. "You have been for a while, sweetheart. You just finally admitted it."
Stella and Hudson share an instant connection from the moment they meet. And even with the less than auspicious start to their fledgling friendship, they can't seem to stay away from each other–especially when they begin working together to get Stella's business off the ground. But just when she and Hudson are finally caving in to their obvious feelings, events from their pasts creep up, shaking their worlds and causing them to wonder how they proceed from here.
"You know I'm counting all the times you torture me. Eventually I'll get even."
"And how will you do that?"
He leaned in and kissed my cheek, then moved his lips to my ear. "With my mouth."
Vi Keeland always writes an entertaining, sexy romance but The Invitation is on a whole other level. The serendipitous storyline, the meet-cute between Hudson and Stella, and the quick-witted dialogue just set it over the top in the very best of ways.
"None of this is a coincidence, sweetheart. It's the universe conspiring for us to be together. It has been from the very start–before we even met."
Oh my goodness! I'm completely smitten after finishing The Invitation. Well, I was actually head over heels for the characters right from chapter one, truth be told, and I just couldn't get enough of Stella, Hudson, Fisher, Olivia, and Charlie. There was something so down to earth about each of them, even though they were movers and shakers in a decadent corporate world. I think it's because the issues they all faced were relatable. The things Hudson and Stella were working on personally–confidence, trust/control issues, getting past childhood trauma–was something that bonded them together but made it easy for this reader to also understand their choices better.
Keeland did a fab job with this storyline. There were a lot of bits and pieces woven together that created a multilayered (sometimes awkwardly funny) series of events that will keep you glued to the pages. But it was Stella and Hudson–and Hudson's precocious daughter Charlie–who stole the show. Stella was a super smart perfumist who had kind of a geek-chic vibe to her. I loved that she was strong but still a little vulnerable and that she seemed a wee bit offbeat. (lol) It fit her personality and her upbringing to a T. And I have to mention that Stella's BFF Fisher was the bomb! He was an absolute hoot and always had her best interest at heart, whether it was pushing her to take a chance or being supportive when things went wrong.
Now, Hudson. Sigh… He was quite the complex but charming guy. He started off charismatic and had a mischievous edge during the wedding crashing scene. Then his broody, grumpy side came out . But when Hudson turned on the charm and decided Stella was his? Yep. His sexy, playful side won over and boy what a show. I also loved that he looked out for Stella, even when she didn't realize it, both in the business world and in her personal life. But then again, Hudson was a protector to those he cared about. Including his absolutely adorable daughter Charlie who had me laughing and happy sighing from the first scene she was in. *giggle*
A seductive contemporary romance with a hero who isn't just swoon-worthy, he's moan-worthy, The Invitation is a must read that will likely be keeper shelf material for Vi Keeland fans.
Book Info:

Publication: January 18th 2021 | Pub: Vi Keeland |
The first time I met Hudson Rothschild was at a wedding. I'd received an unexpected invitation to one of the swankiest venues in the city.
Hudson was a groomsman and quite possibly the most gorgeous man I'd ever laid eyes on. He asked me to dance, and our chemistry was off the charts.
I knew it wasn't a good idea to get involved with him, considering the wedding I was at. But our connection was intense, and I was having a great time.
Though the fun came to a screeching halt when Hudson figured out I wasn't who I'd said I was. You see, that unexpected invitation I received? Well, it hadn't actually been addressed to me—it was sent to my ex-roommate who'd bounced a check for two months' rent and moved out in the middle of the night. I figured she owed me an expensive night out, but I guess, technically, I was crashing the wedding.
Once caught, I couldn't get out of there fast enough. As I bolted for the door, I might've plucked a few bottles of expensive champagne off the tables I passed, all while the gorgeous, angry groomsman was hot on my tail.
Outside, I jumped into a taxi. My heart ricocheted against my ribs as we drove down the block—but at least I'd escaped unscathed.
Or so I thought.
Until I realized I'd left my cell phone behind at the table.
Take one guess who found it?
This is the crazy story of how Hudson Rothschild and I met. But trust me, it's only the tip of the iceberg.
A new, sexy standalone from #1 New York Times Bestseller, Vi Keeland.