The Rancher by Joanne Rock is the fifth installment in the Dynasties: Mesa Falls series that follows a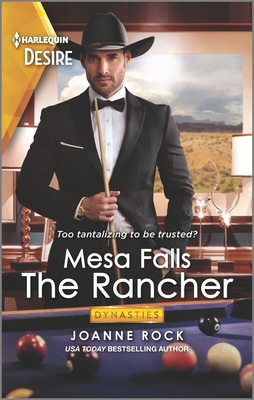 group of college friends, now adults, who own the Mesa Falls Ranch, a luxury corporate retreat. The friends have been concealing a secret since their school days. Each story in the series has a complete couple romance and advances the overall story arc. Though you can read them individually (and jump in and out of the series) it's worth reading them in order as the main story unfolds.
Social media influencer Chiara Campagna wasn't always the successful woman she is now. At one time, under a different name, she had a crush on a young man, Zach, who died under mysterious circumstances. Now she has the means to investigate his death and Miles Rivera, ranch owner and former classmate of her friend must have the answers she's been seeking. When she tries to break into Miles's computer while at a ranch party he catches her in the act, but instead of kicking her out, he wants to know what she's up to and why. A powerful attraction between them leads to a steamy affair, but will it also give Chiara the answers she seeks? And can it lead to something more between her and Miles?
I've been enjoying this entire series and eagerly await each installment so Miles and Chiara's romance is an exciting addition. I love how the author has taken a very modern career as a social media influencer and also shows a bit of what it's like behind the scenes for those involved, how much work is involved in keeping one's brand going and the security concerns that go along with it. When someone threatens to hack Chiara's accounts if she continues to look into Zach's death, Miles becomes intimately involved as he wants to keep Chiara safe, and he wonders if someone he knows could be responsible. There are some scenes with Miles's group of friends that show their tight knit connection and the guilt they still carry over Zach's death and more is learned about the circumstances surrounding it (a little bit of which is revealed in each of the preceding books). There are also some other mysteries that are being revealed piece by piece.
The author has done a great job of combining these little bits of information to entice the reader to want to read all of the books while still focusing each story on one couple. With Miles and Chiara the attraction between them leads to some sexy love scenes and a deepening emotional commitment. I really liked both of the characters and how their relationship goes from one of wary mistrust to love. They get a happy ending that wraps up some of the events that happen in the story while leaving open the door for the next in the series and a new couple to come. I highly recommend this one and the series as a whole.

Book Info:

Publication: Jan 01, 2021 | Harlequin Desire | Dynasties: Mesa Falls #5
His secrets are safe with no one,
especially the woman who sets him on fire…
Ranching tycoon Miles Rivera has always kept the secrets of Mesa Falls Ranch under wraps—until desire trumps good sense. Because when he catches social media star Chiara Campagna snooping during a charity gala, he doesn't kick her out—he sleeps with her! Can he trust the stunning influencer as the tangled web of desire and deception ensnares them both?