In The Italian's Revenge by Michelle Reid, Catherine and Vito Giordani were once happily married, but things soured between them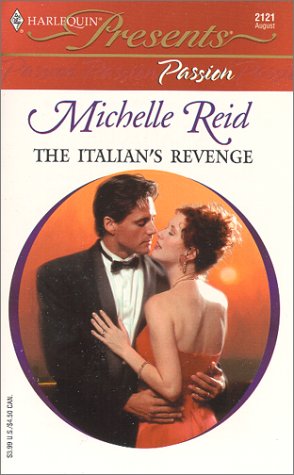 and Catherine took off with their young son and hasn't talked to Vito since. Instead, allowing any words needing to be passed between them through his mother. But when their child starts lashing out at her for what's going on in his life with news that his father might be getting re-married, Catherine is ready to face the past. However, Vito uses their son's bad behavior to his advantage, and soon Catherine finds herself back living with her ex. Will Vito be able to win Catherine back, or will her reasons for leaving him continue to keep them apart?
"You are the blind one, Vito," she informed him. "You are a blind, stubborn and conceited fool who could never see through the charm she lays on you that Marietta is as evil as they come!"
"And you are sick," he responded, his dark face closing into a mask of distaste as he stepped right away from her. "You have to be sick, Catherine, to think such things about a person who only wanted to befriend you."
What a fascinating read Ms. Reid has penned in this enemy to lovers and second chance romance encompassing trope story, because of the reason why the hero and heroine are at odds; and how the most powerful of loves can be broken when trust is no longer between them. The way this story started had me sympathizing with the heroine, as her son is acting out because he doesn't like what's happening between his parents. He wants them to make things right, and stop his father from making a terrible decision. Will the young boy get what he wants?
The dialogue was intense due to the main characters history, what they're going through with their son and the contempt they hold for each other over the fact that the hero doesn't see things clearly when it comes to someone he's close to. Tempers flare and regretful words are spoken, but those moments make this story all the more interesting and had me reading quickly, determined to discover who was right in the matter of what tore their relationship apart. Is the hero putting his trust in the wrong person? Will the heroine be able to forgive the hero?
"You hypocrite," he gritted. "You have the damned cheek to stand in judgment over my morals when your own are no better!"
"Why should it bother you so much what I do in my private life?" Catherine threw back furiously.
"Because you belong to me!" he barked.
She couldn't believe she was hearing this! "Which makes you the hypocrite, Vito," she told him. "You want me – yet you don't want me," she mocked him bitterly. "You like to play around, but can't deal with the idea that I might play around!"
Both the main characters entertained me from start to finish, because their relationship is so volatile and neither is willing back down when it comes to the argument about someone the hero cares about. Catherine is done playing second best in Vito's life and it's about time she did everything in her power to protect herself and her son. Really, I could understand why she'd have such a strong objection to Vito's family friend with the way she was treated and I'm glad that she didn't give in to Vito so easily. But what I liked most about the heroine is how good of a mother she was and that she would do anything to protect her son.
While Vito, he's stubborn, confident and would do anything for his son, even if it meant using the young boy to get Catherine to fall in line with his plans. He has a difficult challenge ahead of him with the heroine. She can't easily forgive or forget that he wasn't there for her at a time when she needed him most, and I could understand why she left him. However, what I liked most about the hero is that he didn't give up on winning Catherine back. She means everything to him, and I'm glad that what happened towards the end made him realize that nothing should keep them apart.
Overall, Ms. Reid has penned a really good second chance romance story in this book where the chemistry was intense because the hero and heroine have history that has put them at odds with each other and Catherine isn't afraid to push Vito's buttons because she believes she's right. The way this story ended had me feeling sorry for Vito and his mother, as the truth comes to light and there's no way Vito can protect his mother from the hurt. Luckily though, Vito has Catherine back in his life and he's not about to let her get away again. I would recommend The Italian's Revenge by Michelle Reid, if you enjoy second chance romances, the enemy to lovers trope or books by authors Lynne Graham, Susan Napier, Sara Craven or Carole Mortimer.

Book Info:

Publication: January 1st, 2000 | Harlequin Presents |
Catherine knows Vito Giordani, her soon-to-be ex-husband, has never forgiven her for ending their marriage and leaving Italy with their little son. Now, when she confronts Vito about his plans to remarry, he doesn't give anything away. Instead, seizing the advantage, he demands that Catherine return to Naples to resume her role as wife and mother. Their son, whom they both adore, will have his parents back together again — and Vito will finally have the revenge he's been waiting for….