The Kidnapped Christmas Bride by Jane Porter: Need a reason why kidnapping shouldn't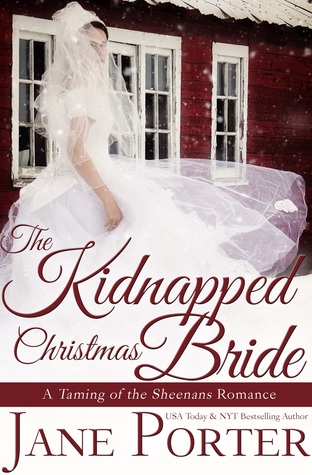 always be a crime? Or one not to judge all convicts by their convictions?
McKenna Douglas knew in her heart she would always love Trey Sheenan, she had since she was 15. That didn't stop her from agreeing to marry another man though. Trey was in jail, convicted of manslaughter and she needed a father figure for their son. She needed strength, stability and safety.
When Trey got out and learned McKenna was to be married the next day his heart was ripped in two. After all he had waited for four years in prison for her, figuring out how to be the man she needed and the right kind of father for his son. On her wedding day everything would change when the man in black came in and asked for five minutes.
Ms. Porter has taken her readers back to Marietta and back to the Sheenan family with this lovely read. It's a fast paced plot full of realizing that love isn't always what you think you want or need, but love is real and real things have ups and downs.
The Kidnapped Christmas Bride is a sweet story and great for anyone who is interested in learning about "bad" boys who aren't really bad growing into "real" men.
Book Info:

Published November 25th 2014 by Tule Publishing
All he wants is a Christmas memory…
Trey Sheenan has cultivated his reputation as Marietta's resident bad boy, until one day he lets things go too far and he loses everything—his freedom, his fiance McKenna Douglas, and his infant son.
McKenna has loved Trey since they were kids, but she's had enough. When Trey is sent away for five years, McKenna is determined to do what's right for her and baby TJ, which means putting her mistakes—namely Trey—behind her, and move on.
When Trey is released early, he returns to Marietta determined to beg McKenna's forgiveness and become the father TJ needs him to be, only to discover that he's too late. McKenna's marrying local insurance agent Lawrence Joplin in a candlelight Christmas wedding.
Or is she?
Once again, Trey risks everything, but this time it's for love….and the memory of one perfect Christmas together as a family.