The Kiss Thief by L.J. Shen: Francesca had a sheltered life and unique upbringing. She was raised to fit the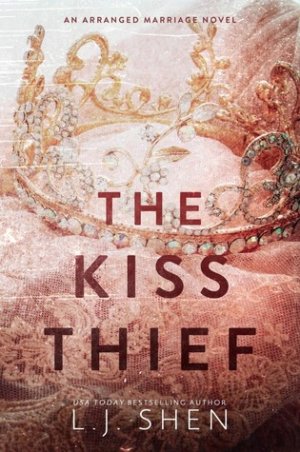 values of an earlier time with traditional values. The only thing she was sure of was that she was meant to marry the son of another member of the Chicago Outfit, Angelo.
Angelo is handsome, charming, and works for the family business. He's been willing to play by the rules when it comes to Francesca.
Senator Wolfe Keaton is an unknown and an X factor. He's handsome as sin, ruthless, powerful, charming when it suits him, and ambitious. He has quite the playboy reputation and it's well-earned.
Francesca's world changes without warning when she ends up engaged to Wolfe instead of Angelo. She's left to grapple with how everything has changed so suddenly and her reactions are understandable, given her age and upbringing. Francesca is nothing like Wolfe expected and they clash over just about everything. She challenges Wolfe in a way wholly new to her.
"Dying for it." I rolled my eyes.
"Follow me out," he ordered.
"No, thank you."
"I'm not asking," he clipped.
"Good because I'm not accepting."
There's no love lost between Angelo and Wolfe, and Francesca is stuck between the future she imagined, the present, and the future she might be able to carve out for herself if she can find her own inner strength. The two men in her life bring out different feelings in her and offer her different futures.
"Are you going to make it a habit?" he asked.
"Make what a habit?"
"Scaring me to death."
"Depends on how much you piss me off."
The Kiss Thief is thoroughly engaging from start to finish. L.J. Shen brought to life complicated characters you'll love, hate, and love to hate. Ms. Shen develops the characters, relationships, and romance with plenty of conflict, drama, angst, heat, tension, and anticipation. Fans of Katee Robert, Vanessa Fewings, K.A. Linde will love The Kiss Thief.


Book Info:

Publication: Published January 6th 2019 | Independently published |
They say your first kiss should be earned.
Mine was stolen by a devil in a masquerade mask under the black Chicago sky.
They say the vows you take on your wedding day are sacred.
Mine were broken before we left church.
They say your heart only beats for one man.
Mine split and bled for two rivals who fought for it until the bitter end.
I was promised to Angelo Bandini, the heir to one of the most powerful families in the Chicago Outfit.
Then taken by Senator Wolfe Keaton, who held my father's sins over his head to force me into marriage.
They say that all great love stories have a happy ending.
I, Francesca Rossi, found myself erasing and rewriting mine until the very last chapter.
One kiss.
Two men.
Three lives.
Entwined together.
And somewhere between these two men, I had to find my forever.