In The Kissing Season by Rachael Johns, Hannah Elliot is the black sheep of the family, but she feels more like the failure. She only proved them right once more when she married a stranger in Las Vegas only to have him file for an annulment after he finds out she is pregnant and doesn't want to get rid of the baby. And it looked like it was not the first time that happened to him.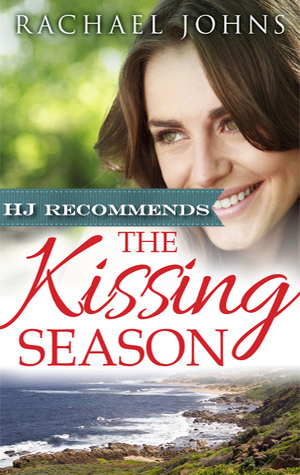 Now Hannah has returned home to Wildwood Point, Australia determined to become a good mother and to put her baby's needs ahead of her own. Only she is not ready to tell her family yet, and dreads the moment she reveals her secret to them. But first she must show them that she can be responsible and she will start by working hard at the family shop.
When Matteo Della-Bosca walks into the family shop and wants to buy a new bedroom set, well she finds herself loosing a little of her resolve. He is so hot that she tries to keep a distance from him while he looks around and finds what he wants. That is until he decides to start jumping on one of the beds on display to test it.
But as she tries to reprimand him for his behavior, she soon finds herself on her back with him kissing her, and desires that she hoped were buried come back to life. Now she must find enough strength to resist him and his advances while they conclude any and all business, and while he is in town. Yet Matteo will not make things easy for Hannah, for he has found something in her that keeps him wanting to get closer and get to know her more.
This is a very sweet and fast read, I honestly read this in a just few hours and could not put it down. Matteo is the charming, hot and rich Italian that most of us would like to come into our lives. I just loved how persistent he was about dating Hannah and how he would charm her every chance he got. And he would work around having her brothers or her family nearby if he had to. And I just loved how he stood up to her family when the truth about her baby came out in order to protect her and to show them the error of their ways.
If you want a sweet and fast read, don't miss The Kissing Season by Rachael Johns.
Book Info:

HJ Recommends
December 1st 2013 by Harlequin Australia
From the author of Man Drought and Jilted comes a funny and romantic Christmas story set in rural Australia.
Every family has a black sheep…and Hannah Elliot is it.
It's no surprise to anyone when Hannah Elliot makes the spontaneous decision to marry a stranger in Las Vegas. But when she finds herself pregnant and her new husband files for an annulment, she dreads having to tell her family.
Returning to her Australian hometown of Wildwood Point, Hannah is determined to become a devoted mum and put her baby's needs ahead of her own. She's also set to prove to her family she can actually be responsible. This means putting her wild past behind her and accepting a job back in the family business…while keeping her pregnancy a secret!
Except, when gorgeous Italian Matteo Della-Bosca walks through the shop door, Hannah finds her resolve slipping fast…