The Lady and the Unicorn by Iris Johansen is a fun and sweet romance from beginning to end.
Janna Cannon's only hope to save the endangered animal in the wild animal reserve is breaking into Rafe Santine's home and convincing him to donate land to them. Breaking in will be the easy part, even with all the security and the guard dogs. The hard part will be convincing him to donate prime real state land to them.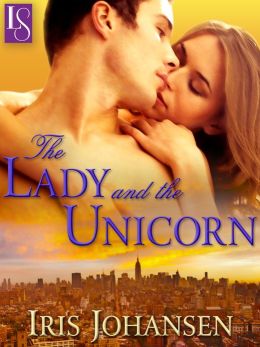 Rafe has been bored since he got his doctor's orders to stay put for two months. He may have his mistress and his PA there with him, but they can no longer keep him occupied. He needs something new to entertain and distract him.
When Rafe learns that an intruder has broken into his mansion, he does not understand why he is being bothered by security when they always take care of it. But when he learns that she had the dogs defending her from their own trainers and that she demands to see him, he knows that this may be what he was looking for.
Time is of the essence for Janna, she must convince Rafe to donate land or all her animals will be caged and may become extinct. What she doesn't expect are his conditions for the donation, if she wants his land she must stay with him for two months and become his mistress.
As they spend more time together, Janna and Rafe become really close. But Rafe soon becomes possessive to the point that he wants no other man to be close to her. To make things more interesting, Janna has a deep fear of loosing her freedom in any way, and become a possession.
Janna and Rafe will have to learn that love comes in many ways, and that their obsessive and extreme way of thinking may just need to be adjusted a little if they want true the happiness they can have together.
Rafe is a nice character that once you get to know you will understand his obsessive ways of always getting his way and having full possession of what he wants. He may be a little overwhelming at times but at the same time you can feel his deep pain and insecurities.
Janna has always lived in fear of being "caged" in any way, whether it was in a relationship or in a place but her insecurities are based on what her grandmother went through and she takes things out of proportion. But when she learns that possessing is also being possessed she learns that not all cages are restricting.
If you want a fun and sweet romance that will make you laugh and cry you will definitely like The Lady and the Unicorn by Iris Johansen.
Book Info
Publisher: Loveswept (May 13, 2013)
Rafe Santine is under doctor's orders: He needs to stay put in his coastal California mansion for two months to recuperate from the pneumonia that nearly killed him. Despite a retinue of mistresses to keep the powerful tycoon occupied, Rafe struggles against boredom—until a stunning woman literally drops onto his estate. She has high demands of him, but Rafe has even greater demands of her. He knows instantly that he must possess every facet of the enigmatic Janna. But the only thing she'll give him is her body—and for the first time in his life, that is not enough for Rafe.
Janna Cannon is willing to risk it all to save the endangered animals of the wild animal reserve where she works as a game warden. With the land they depend on pulled out from under them, Janna must take a gambit to convince billionaire Santine to give the reserve the real estate they need to keep the animals free. And she'll need to sneak onto the man's vast, highly protected property to do it. Much to her surprise, Santine agrees to grant her the land—if Janna agrees to give him herself in exchange. And what begins as luxurious captivity soon turns into an emotional awakening she never expected.