The Lady Travelers Guide to Happily Ever After by Victoria Alexander is the fourth full length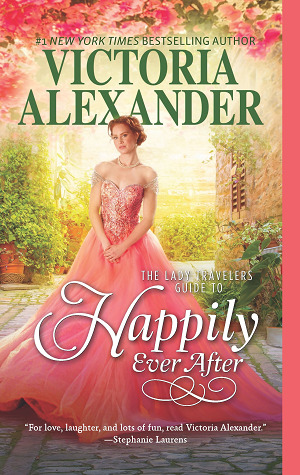 book in the Lady Travelers Society series, which also includes four novellas. I've read one of the books in the series and enjoyed it, so I was looking forward to this book. Poppy, Gwen, and Effie are the mischievous widows in the series that like to play matchmakers.
Violet Branham and James Branham, the new Earl of Ellsworth, were caught kissing at his engagement ball to another woman six years prior, which lead to their marriage. Violet was disappointed the day after the marriage as she heard James tell his Uncle Richard that even though they were married they would go their separate ways like most society marriages. Instead she decided she would travel the world as an independent woman and never see James again.
Upon the death of Uncle Richard, they learn that for James to inherit they must live together and to be seen in society as a happy couple for 3 years. Richard had always hoped for a reconciliation between James and Violet, so he arranged for the two to have a second chance at marriage. James had always felt guilty of his treatment of Violet and as he has finally admitted to himself what he wants. He wants Violet and he is willing to follow her across Europe to earn her trust.
The mischief the widows provide and the witty banter between the characters made the book fun to read and hard to put down. The author's description of the cities and historical sites they visited was wonderful and added substance to the story line. This was a great addition to the series, and I am looking forward to reading the other novellas and books in the series.
Book Info:

Publication: August 27th 2019 | Harlequin | The Lady Travelers Society #4
For the past seven years, Viola Branham has enjoyed the luxury of traveling the world as an independent woman, and confining her awkward past to a distant, if painful, memory. But now she has been summoned home to England over a stipulation in the will of her late uncle, the Earl of Ellsworth, one that decrees she lose everything unless she reconciles with the man who broke her heart and ruined her life—her husband.
Don't miss the sparkling wit of the Lady Travelers Society series by #1 New York Times bestselling author Victoria Alexander. The Lady Travelers Guide to Happily Ever After is coming soon from HQN Books